Rizzo hits leadoff HR, Cubs shut out Padres 4-0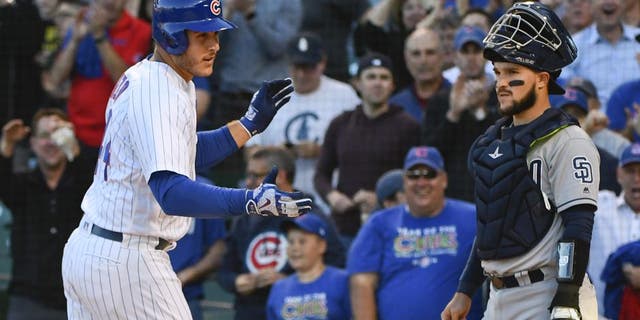 NEWYou can now listen to Fox News articles!
CHICAGO (AP) -- Anthony Rizzo said all his talking is making him an annoying teammate.
The new leadoff hitter is making up for it with his bat, lifting the Chicago Cubs with another first-inning homer Monday night in a 4-0 victory over the San Diego Padres.
"I'm sure my teammates are starting to get a little tired of it because I'm constantly in their ears," Rizzo said. "Non-stop, telling them, `Make sure you don't miss it.'"
He hasn't been missing anything at the top of Joe Maddon's batting order.
"It's like on nightly basis, he's ready to go," Maddon said. "He ready, he's chirpy, he's loving this and it's helping us out incredibly."
Rizzo's home run on the second pitch from Jhoulys Chacin (6-6) was the third leading off in seven games since Rizzo was moved to first in the order. In those seven games, he is 6 for 6 with a walk to open the first inning.
It also extended his hitting streak to a career-high 14 games and came on the day Rizzo took a call from the league office about a collision at home plate with Padres catcher Austin Hedges the previous night.
MLB Chief Operating Officer Joe Torre told Rizzo on Tuesday that he violated Rule 7.13, which protects catchers from such collisions, but that he would receive no discipline. He was called out on the play.
Rizzo's home run was his 17th of the season. Rookie Ian Happ added his ninth in the eighth inning for the Cubs, who won their third straight.
Mike Montgomery (1-3) allowed three hits and two walks in six innings, striking out four. Twelve of his other 14 outs came on ground balls.
The left-hander started the season in the bullpen, but his last three appearances have been as a starter.
"I think it was just a great overall win for us, a great feeling all around," Montgomery said. "It felt like a well-played ballgame, the bullpen came in and did a great job shutting it down. It's a lot of fun when you can win like that."
Carl Edwards Jr. and Pedro Strop both allowed two baserunners apiece but pitched out of jams while each throwing an inning, and Justin Grimm had a perfect ninth.
The Padres had five hits but left eight runners stranded.
"I don't think it's really men in scoring position, I just think we have to be better offensively all the way across the board," Padres manager Andy Green said. "I think each guy has got to kind of look at themselves and realize how they're being pitched, continue to use their mind and continue to use their fight."
Addison Russell hit an RBI single in the fourth inning to make it 2-0. Pinch-hitter Albert Almora Jr. added an RBI double in the eighth.
Chacin struck out six batters in six innings, allowing two runs and five hits. Catcher Luis Torrens had two hits.
RINGS TRUE
Padres pitchers Trevor Cahill and Clayton Richard received their World Series rings from the Cubs hours before Tuesday's game.
Cahill had a 2.74 ERA in 50 appearances for the Cubs last season, but didn't make the playoff roster. Richard pitched in 25 games with a 6.43 ERA before being released and picked up by the Padres.
Cahill (seven games) and Richard (15) have appeared exclusively as starters this year for San Diego.
LINE ONE
Rizzo said he had no intent to injure Hedges on Monday's controversial play, which earned the call from Torre.
"It's a tough baseball rule and there's a lot of gray area," Rizzo said. "The league looked at it, and it's over with now."
Green and Hedges both said they expect the catcher to return to the lineup soon after suffering a deep thigh bruise in the collision.
TRAINER'S ROOM
Padres: 2B Yangervis Solarte (strained left oblique) was removed from the game in the first inning without taking the field or batting. Green said he hurt it before the game in one of his final swings in the batting cage. The manager said he anticipates a trip to the disabled list for the clean-up hitter.
Cubs: Outfielders Jason Heyward and Kyle Schwarber were held out with injuries. Heyward badly scraped up his left hand sliding for a foul ball on Sunday and missed his second straight game, while Schwarber fouled a ball off his right ankle on Monday.
UP NEXT
The teams will meet for the series finale Wednesday as Cubs RHP Eddie Butler (3-2, 4.41) faces Padres RHP Miguel Diaz (1-1, 7.36).