Rio 2016: U.S. boxer Antonio Vargas thanks sport for keeping him off the streets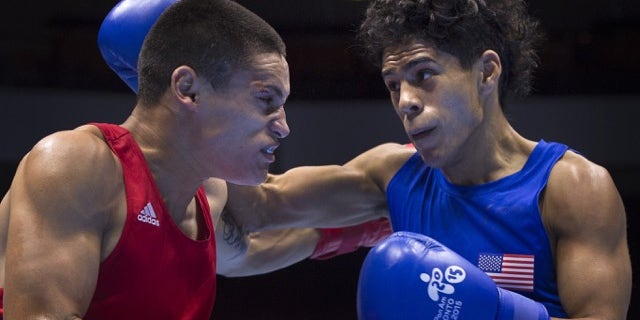 NEWYou can now listen to Fox News articles!
For Antonio Vargas, boxing was more than just a sport — it was a cure.
After being diagnosed with ADHD at age 9, his father chose boxing over prescription drugs, helping the young Vargas not only stay out of trouble but find his hidden talent.
At a Glance
Name: Antonio Vargas
Age: Turns 20 on 8/15
Discipline: Boxing
Weight Class: Flyweight
Begins competition: Men's flyweight preliminaries, Sat. 8/13, 10 a.m. EDT
Through boxing, Vargas has been able to channel his extra energy into something positive, developing a discipline and work ethic that has transferred into other areas of his life and that has helped him succeed.
"Boxing keeps me disciplined. It keeps me out of the streets. It keeps me with a goal in mind.'' Vargas told the Orlando Sentinel.
The Houston-native trains an average of 20 hours a week, he said, and his days always start with a morning run. He will be making his Olympic debut in Rio in the flyweight category on Friday.
Vargas' fearless nature in the ring has earned him the nickname "No Respect," reports Team USA — he is never intimidated by any opponent, no matter how experienced.
The boxer, who turns 20 on Monday, acknowledges he loves competition and has stated that one of his favorite parts of winning is making his family happy.
Originally from Puerto Rico, Vargas has fought in over 100 amateur fights. He is the 2015 Pan American Games gold medalist, 2015 USA Boxing National Champion and the 2015 USA Boxing Elite Male Athlete of the Year.
He considers his best assets on the ring to be his hand and foot speeds.
Although his road to Rio was far from easy, suffering defeats in the Olympic Trials and during his first international qualifier, Vargas secured his spot on the U.S. Olympic team after his quarterfinal victory at the World Olympic Qualifying Event in Baku, Azerbaijan.
Looking back at his childhood and his athletic accomplishments, Vargas thanks his father for introducing him to boxing. It is his father's dream to see him at the Olympics, he said.
"If he hadn't put me into boxing, I'd probably be another bum on the street, like smoking weed,'' Vargas told the Sentinel. "I thank him a lot. He took the first step. The guy right there was just a life-changer for me.''
After Rio, Vargas hopes to begin boxing professionally.