Rio 2016: Ryan Lochte, Michael Phelps set up final Olympic matchup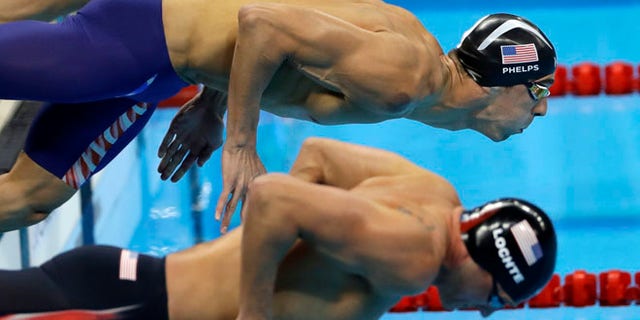 It's the rematch we've all been waiting for and it's likely the last time it will happen.
Ryan Lochte and Michael Phelps, the two most decorated male Olympians in the U.S., are destined to battle for the gold medal one last time when they dive into the pool tonight for the 200-meter individual medley in Rio.
The race will mark the fourth time they have competed against each other in this event. It will also end a 13-year rivalry that has been one of the greatest in swimming history.
"It's amazing," Phelps, 31, told reporters after their semifinal race on Wednesday night. "I love racing him. He brings out the best of me. Meets like these are the ones that I like the most."
Lochte, 32, echoed his teammate and longtime friend's sentiments.
"Like he said, we bring the best out of each other," he said. "We've been doing it since the 2004."
The history between the two swimmers suggests that they will have first and second place finishes in tonight's race — much to the anticipation of the crowd.
Phelps, who has won the gold medal in this race in the last three Olympics, is the favorite going in, but expect Lochte to not make it easy. It's how they ended at the 2012 London games, where Phelps became the first male swimmer to three-peat in an individual Olympic event.
The two swimmers – who have 37 Olympic medals between them – have been anticipating this particular race since the U.S. Olympic trials last month, where Phelps edged past Lochte by hundreds of a second.
"When we race each other, we bring each other to a different level," Phelps told reporters at the trials. "We take each other to that next step."
Lochte added at the trials: "We've had a long history, a long journey. But it's not over."
Their rivalry began more than 12 years ago at the Athens games in 2004. Going into those games, no American swimmer had won the men's Olympic 200-meter individual medley since 1968.
They both went on to demonstrate their skill and power in the pool that kicked off their dominance in the years to come. Phelps was 19 and Lochte was 20 at the time.
In 2008, Lochte had to settle for bronze after picking up an intestinal virus from brushing his teeth with tap water in Beijing. Hungary's Laszlo Cseh took home the silver, clocking in one-hundredth of a second before Lochte. During this race, Phelps set a world record with a time of 1:54:23.
"It's going to take a perfect performance in order to beat him just because of how tough a competitor he is," Lochte said. "He won't give up and that's awesome. That's why he brings out the best in me and hopefully I do the exact same for him."
According to USA Swimming, Phelps holds a 13-4 record all time again Lochte in major competitions.
Lochte's big win against Phelps came at the 2011 World Championships, where he set a world record of 1:54:00 that still stands today.
It has not always been a rivalry between the two in the pool. Together they have brought home several relay medals for the U.S., including a gold medal on Tuesday night in the 4x200-meter freestyle relay.
"The history him and I have had with one another, it's something special and something I've never had in another competitor of mine," Phelps said. "We'll have one more time to hop in the pool and duke it out."
Tonight's race will likely be the last as Phelps has said he will retire from the sport after the games.
Lochte, however, has left the door open to trying to compete at the 2020 Tokyo Olympics.
"I think the biggest thing is that we know how to push each other and ourselves," Lochte told Omnisport. "Every day that we go to the pool or to a workout we know how to push our bodies to limits that other people are afraid to go to. When we start feeling pain, we push ourselves even harder."
Regardless of the outcome tonight, the two teammates know that it will all end well for them.
"We'll hang out because swimming doesn't dictate our friendship," Lochte said.
The Associated Press contributed to this report.