Rio 2016: Pelé 'not physically able' to light Olympic cauldron at opening ceremony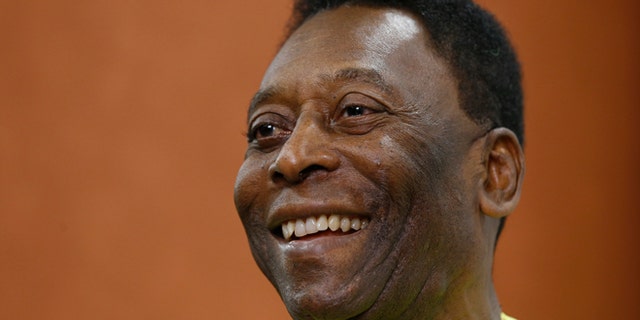 NEWYou can now listen to Fox News articles!
Pelé says his poor health will keep him from lighting the Olympic cauldron at the opening ceremony of the Rio Olympics.
In a statement on Friday, the soccer superstar said, "I'm not physically able to attend the opening of the Olympics."
Friday's opening ceremony will need to fill a void without Brazil's most famous athlete. The three-time World Cup champion was invited by Olympic organizers to be the final torch bearer and light the Olympic cauldron at the opening ceremony at Rio's Maracanã Stadium.
The star, who helped popularize soccer in the United States when he played for the New York Cosmos late in his career, had hip surgery several years ago and often walks with the help of a cane.
In his statement, Pelé, 75, admitted, "Only God is more important than my health. In my life, I've had fractures, surgeries, pain, hospital stays, victories and defeats. And I've always respected those who admire me."
He said the choice not to attend the opening ceremony was "my own decision."
Earlier in the week, Pelé said he had been invited to light the cauldron by International Olympic Committee President Thomas Bach and Rio 2016 organizing committee chairman Carlos Arthur Nuzman, but sponsorship deals might prevent him from performing the prestigious task.
Pelé apologized for disappointing Brazilians and said, "As a Brazilian, I ask God to bless all who participate in this event."
He signed the statement Edson Arantes do Nascimento [his birth name] — Pelé.
Almost two weeks ago Pelé held the Olympic flame in Santos, the city in the outskirts of São Paulo where he started his football career. He never took part in the Games as an athlete.
Based on reporting by the Associated Press.