Rio 2016: Gymnast Danell Leyva, a bronze-winner in London, aims for gold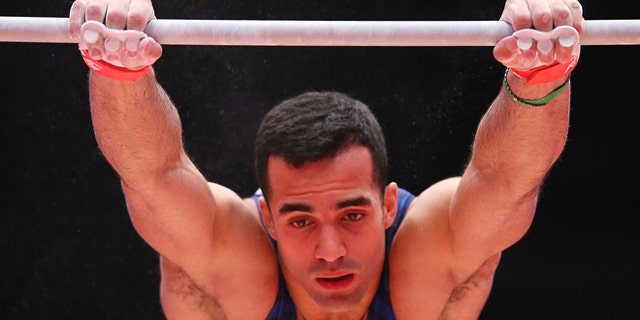 Danell Leyva's dream of getting another Olympic medal seemed all but finished when the U.S. men's gymnastics team was announced last month.
The 24-year-old did not make the cut to be included on the five-member team, despite having won a bronze medal in the all-around competition at the 2012 Olympics – the only male American gymnast to win a medal in London. Instead, Leyva was chosen as an alternate for Rio.
But just weeks later, the team received a blow when Leyva's fellow-London Olympian, John Orozco, tore his ACL during a practice. In a moment, Leyva went from alternate to Olympian once again.
At a Glance
Name: Danell Leyva
Age: 24
Discipline: Gymnastics
Begins competition: Saturday August 6
"I feel like I'm here not only for myself or for the U.S., but for [Orozco] on top of that," he told NBCMiami from Rio this week. "We're like brothers. All of us."
In an Instagram video posted soon after, Leyva said: "To be named an alternate on the team was a great honor. It's a difficult position, but I understood the responsibility." He never gave up trying to prove to the selection committee "that I had the skill and readiness to earn a place on the team in order to make it as strong as possible."
He said Orozco approached him soon after the injury.
"He was just like, 'Yo, man, you're going to be great, just be ready,'" Leyva recalled. "I was like, 'Thanks, man.'"
And ready he intends to be.
The Cuban-born gymnast first fell in love with the sport when he was 2 years old when his mother, María González, a former gymnast on the Cuban national team, played a VHS tape of a gymnastic competition on for him. He was transfixed.
They defected from Cuba and landed in Miami when Leyva was still a toddler. Right away, she put him in classes. According to Leyva, it didn't go very well.
"I did one class, and the coach came up to my mom, and he goes, 'Please don't bring him back.' Apparently I was so bad at focusing and paying attention, I was just all over the place," he told NBC Olympics. "So that was like a good indicator to my mom that, she was like, 'Maybe he's not going to be a gymnast.'"
But Yin Alvarez, a family friend who competed alongside González on the Cuban team, thought differently.
He became Leyva's coach – and eventually his stepfather. Alvarez is still Levya's coach and became well known during the London Games for his over-the-top cheerleading style during Leyva's routines.
"It really fuels me," Leyva said. "When I'm up there, I can feel his energy. I can feel him, you know, just pushing for me to do well – even though he has absolutely no control over it – but I can feel his energy and I can feel him down there and all those cheers. And when I land, that's just like the exclamation mark."
Leyva's breakout moment came in 2011, when he earned the third-highest all-around score in qualification at the World Championships that year. It earned him a spot on the 2012 team.
The pommel horse, long considered the weakest event for the U.S. men's team, continued its curse at the London games, but it didn't entirely stop Leyva.
He botched his dismount on the pommel horse during the all-around final, but worked his way up the standings afterward, in the end pushing into third place behind Japan's Kohei Uchimura and Germany's Marcel Nguyen.
Leyva, whose big strength is the high bar, hopes to do even better in Rio.
"It still feels like the first time, honestly," Leyva told NBCMiami. "It's still crazy to believe that I'm at the Olympics. And then I remind myself, and it's like, 'Wow, I'm here again.' It's even crazier."
The men's gymnastic team for Rio includes three Olympic returnees – Leyva, Jake Dalton and Sam Mikulak – as well as two former alternates in Chris Brookes and Alex Naddour.
Competition begins Saturday.