Rinne shines in Nashville's Game 1 loss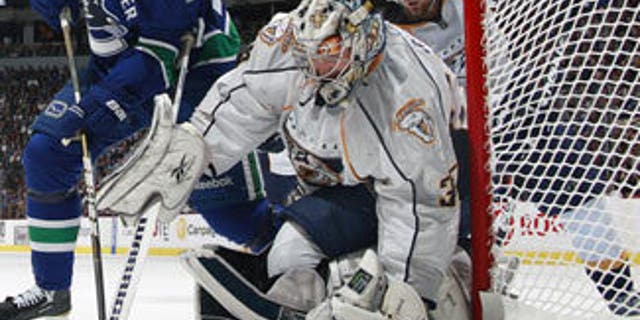 VANCOUVER, B.C. – Pekka Rinne was almost perfect on Thursday night. Unfortunately, that wasn't good enough.
Rinne turned aside 29 of the 30 shots he faced in Game 1 of the Western Conference Semifinals, including many in spectacular fashion, but Chris Higgins' goal at 12:14 of the second period proved to be the difference in Vancouver's 1-0 series-opening victory.
Kevin Bieksa kept the puck in at the Nashville blue line and passed it to Maxim Lapierre, who in turn fed it cross-ice to Higgins, for his second of the Stanley Cup Playoffs.
"We turned the puck over a little bit and they made a good play," Rinne said of the game's lone goal. "I think it kind of ended up being 3-on-1 in front of the net and Lapierre made a good pass to Higgins and he was able to bury it"
Rinne, who along with Vancouver's Roberto Luongo is a finalist for the Vezina Trophy, was the only reason the Predators had a chance to win on a night they were badly outplayed. He was especially good through the first two periods, when Vancouver outshot Nashville 26-11.
In the opening period, Rinne made big saves on Ryan Kesler and Keith Ballard to keep things scoreless. Kesler got his stick on a Henrik Sedin point shot, but couldn't deflect it past the Nashville goaltender. Ballard, on a solo effort, got two chances but could not find the back of the net.
"They're a good team defensively," Ballard said. "How many times did you think you looked and said 'wow great save, great save, great save' -- that's why he's a finalist for the Vezina.
"We got to stay patient and stick with it."
Vancouver outshot Nashville 10-6 in the middle period, but only Higgins was able to beat Rinne – giving the Predators a chance.
"He was the main reason we were still in the game after two periods," captain Shea Weber said. "Without him it could've been a lot worse and we wouldn't have had a chance to tie it up."
Nashville arrived in Vancouver after a six-game series win over the Anaheim Ducks in which the Predators surrendered a goal more than their season average -- and scored a goal more than their season average.
However, after Game 1, much of the team agreed that wasn't their A game.
"Obviously we respect their team, it's a good hockey team, but we just didn't have it for the first two periods," Rinne explained. "Somehow we just didn't have the jump, the last series we seemed like we were the ones who were dictating the pace of the game and tonight it was the other way around."