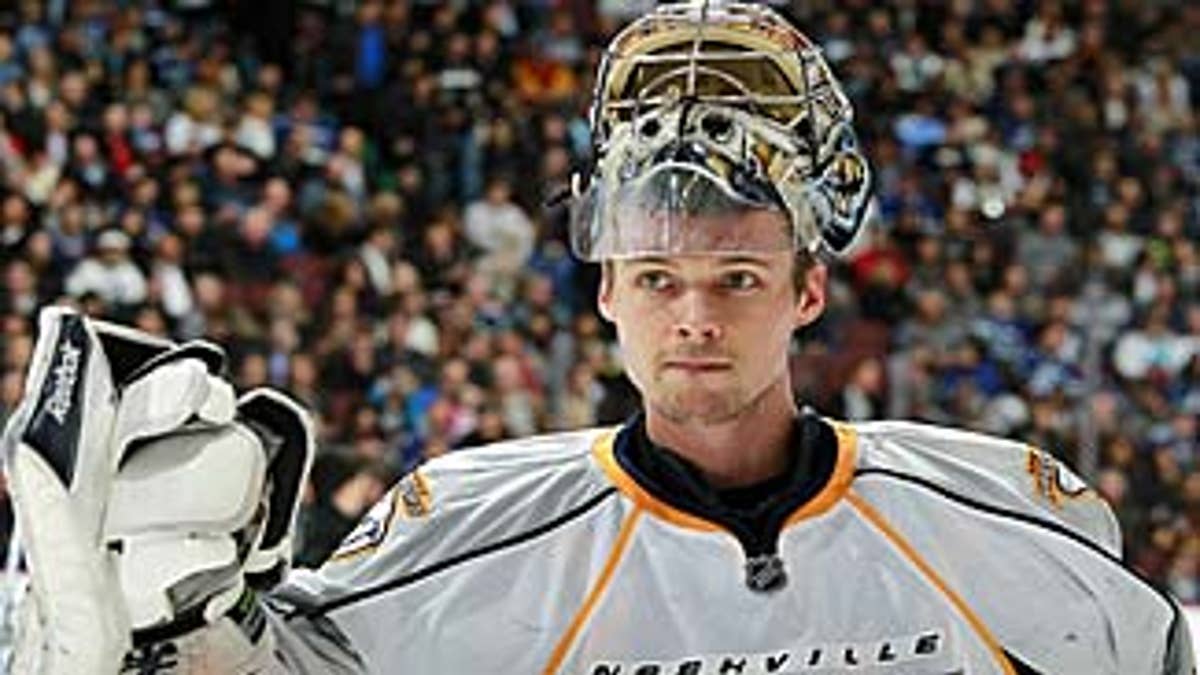 Our goalie experts are back for a look at Round 2 of the Stanley Cup Playoffs. In this installment, Ken Baker of the Stop Da Puck blog and Justin Goldman of The Goalie Guild look at the potential difference-making goalies in Round 2, as well as the biggest questions facing each of the eight starting goalies. Ken Baker examines Nashville's Pekka Rinne and the rest of the Western Conference field while Justin Goldman looks at Michael Neuvirth and the rest of the Eastern Conference goalie picture.
Fact: No Western Conference team that has made it to the second round has given up more shots per game than the Nashville Predators.
Fact: Nashville's Pekka Rinne is a finalist for the Vezina Trophy.
Fact: Rinne will be the goaltending difference-maker to watch out West.
Why?
Of the four Western Conference goalies (let's make that "starting" goalies since all but Detroit's Jimmy Howard have been relieved by backups at some point), Rinne is the one who throughout the season exhibited the consistent ability to single-handedly steal games, as he nearly did Thursday night in Vancouver in a nearly perfect 29-saves-on-30-shots loss.
The major problem for Nashville, however, is that in his six playoff games against Anaheim, Rinne -- while solid when his team needed him most -- stole about as much as Mother Teresa. That is to say, not very much at all.
But it is the regular-season-certified potential of the lanky Finn -- whose long arms and legs during puck-scrambling moments give him the appearance of a cross between a giraffe and an octopus -- that should have Vancouver concerned.
Rinne, 28, didn't earn the Vezina nomination along with Boston's Tim Thomas and, ironically, Roberto Luongo, for the .876 save percentage and 3.29 goals-against average he put up in the first round. Rather, it was Rinne's stunning .930 save percentage and 2.12 goals-against average during the regular season that elevated him to truly elite status.
What about those subpar Round 1 stats?
A closer look reveals that while Rinne didn't consistently bring his shutdown game, many of the goals were wonky ones -- fluky goals such as when Teemu Selanne got a lucky bounce of the end boards and stuffed it in on Rinne's back side, or when a Cam Fowler point shot deflected randomly off a Nashville defender.
Of the 19 goals Rinne allowed, you'd have to possess the rhetorical skills of the late infomerical pitchman Billy Mays to convince informed viewers to buy the fact that more than two -- or maybe three -- were objectively "soft" goals. Yet, amid the many bad-luck bounces, Rinne still made the kind of sick saves on a game-by-game basis that have made him a human-highlight reel.
When all is said and done, Rinne, as athletic and gangly as he is, can be an imposing presence simply for the geometry he brings to his game. Rinne has learned how to, as I like to describe it, suffocate a puck.
Utilizing his extraordinary big-man agility, these suffocation saves have become his trademark -- like his memorable Game 1 right-pad robber on Selanne that was replayed more times on the NHL Network than those ab-cruncher commercials.
What is a suffocation save?
It's a save in which the goalie, rather than remaining in a stationary depth position while making a save, attacks the puck while executing his save selection. The result of this aggressive move is that the puck has no choice but to strike and remain with the goalie.
This aggressive approach is vintage Rinne. Call it the NHL Goaltending New School: The best defense is an aggressive offense. And if this is the kind of goalie that shows up for the Preds throughout the Vancouver series -- and Game 1 indicates that it is -- the Canucks may want to make like high-altitude hikers and bring extra oxygen.
The Big Questions
ANTTI NIEMI: Can he return to his Stanley Cup-winning form?
The defending Stanley Cup champion goalie played mostly like a badminton champion in his opening round against the Kings -- yanked twice, sluggish butterflies and sloppy rebounds, and a bloated goals-against. Even with their impressive firepower up front, the Sharks will have to get much better goaltending against Detroit's veteran-laden team if they hope to advance to the third round.
PEKKA RINNE: Will he finally bring his regular-season dominance to the playoffs?
Vezinas are won in the first 82 games. Legends are made during what follows. No doubt the Vezina finalist has the potential to steal the Vancouver series, but with the Sedins and Ryan Kesler and Vancouver's assortment of other Presidential weapons firing their missiles, Rinne will have to be da bomb.
JIMMY HOWARD: Was his Round 1 performance a fluke?
The energetic battler rendered the Phoenix offense impotent. He made key saves at key moments and didn't let in the kind of demoralizing stinkers that leaked through him on occasion during the season. Given that he doesn't have a postseason track record and faces the scrutiny that any post-Hasek/post-Osgood Red Wings goalie encounters, every game will be this sophomore goalie's final exam.
ROBERTO LUONGO: Will he finally be able to relax and lead his team?
By coming back from some horrendous starts to beat Chicago in Game 7, Luongo may have gotten one monkey off his back. But he still has that giant gorilla hanging on him in the form of a $64 million contract that seemingly, according to Canucks fans, has a clause that requires him to win the Cup or he will be a failure. Pressure? Yes. However Luongo reacts, either positively or negatively, it will be nuclear.