Ricky Stenhouse Jr. rules Talladega for first Cup win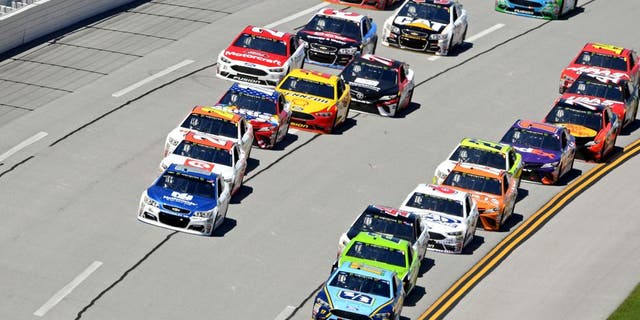 Ricky Stenhouse Jr. won the GEICO 500 Sunday at Talladega Superspeedway, claiming the first victory of his Monster Energy NASCAR Cup Series career in dramatic fashion with an overtime pass of Kyle Busch for the win.
"The Big One" didn't arrive until late Sunday afternoon, setting up a chain reaction of incidents that led to three restarts over the last 20 laps.
Stenhouse emerged the victor on the last lap, with Jamie McMurray edging Busch for second.
It was Stenhouse's 158th career Cup start, and he started from the pole. But after leading a bunch of laps early, he had to work his way back to the front on several occasions -- none bigger than what he was able to pull off at the very end.
Brad Keselowski won Stage 1 and Denny Hamlin Stage 2 as both of the opening stages were surprisingly clean.
Hamlin took the second stage after deliberately dropping back in Stage 1 when he and crew chief Mike Wheeler suspected trouble might be about to unfold in front of his No. 11 Joe Gibbs Racing Toyota. Then he pitted toward the end of that stage to gain favorable track position for the next one.
Meanwhile, the laps kept unfolding, one after the other, with tense, close-quarters racing but no major incidents.
With 28 laps to go, Ryan Blaney appeared to get tapped from behind by Ricky Stenhouse Jr. after the field bunched up behind the slowing car of rookie Gray Gaulding, sending Blaneys No. 21 Wood Brothers Racing Ford spinning into the outside wall.
That brought out the fifth caution of the day, but again, did not trigger the huge wreck that many had been anticipating for much of the day.
It also set up a restart with 24 laps remaining, with 34 cars still on the lead lap and Kyle Busch leading the field back to green. And shortly thereafter is when chaos finally struck.
Five laps after the restart, on Lap 169, AJ Allmendinger was running third and attempting to push Chase Elliott in an effort to catch the No. 18 of Busch when he pushed too aggressively and turned both Elliott and himself, triggering a massive, wild pileup involving a total of 17 cars.
In addition to Allmendinger and Elliott, other drivers whose cars were caught up to some degree or another in the Big One were those of Joey Logano, Kevin Harvick, Martin Truex Jr., Keselowski, Matt Kenseth, Danica Patrick, Austin Dillon, Trevor Bayne, Erik Jones, David Ragan, Paul Menard, Cole Whitt, Brendan Gaughan, Matt DiBenedetto and Michael McDowell.
Was that my bad? Elliott asked over his team radio.
No, that wasnt your fault. He shoved you so hard you got all twisted up, came the reply.
Allmendingers No. 47 Chevrolet came to rest upside down on the track, and he had to wait until an emergency crew turned it over before he could climb out. He sought out Elliott and apologized for the incident after both had been checked out and released from the infield care center.
There were three more cautions and subsequent restarts over the final 16 laps before the winner of the race was decided.
The last came out when Ryan Newman got turned and spun as the field bunched up, setting up a green-white-checkered overtime finish.