Ricky Stenhouse Jr. 'parked it' to end drought for Roush Fenway Racing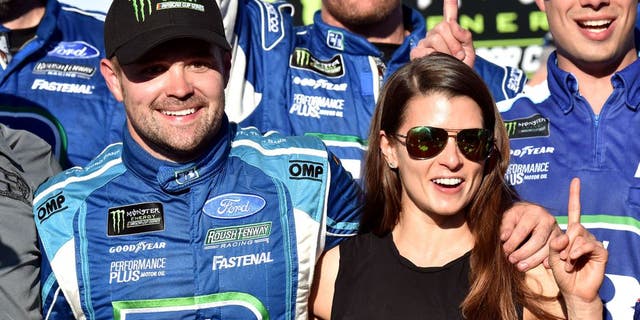 TALLADEGA, Ala. -- On Sunday at Talladega Superspeedway, Ricky Stenhouse Jr. became the 11th Monster Energy NASCAR Cup Series driver to earn their first career race win at the 2.66-mile Alabama track.
It took 157 races since his first career start with Wood Brothers Racing in 2011 at Charlotte Motor Speedway, but Stenhouse finally broke into Victory Lane after holding off Kyle Busch in Sunday's GEICO 500.
"Doesn't get any sweeter," Stenhouse said. "A lot of hard work from (crew chief) Brian Pattie, Steve (Newmark) and Jack (Rousch) and everybody at the shop to continue to put race cars out there and continue to give us the resources, and man, it's awesome to finally finish it off.
Looking back at the journey leading up to his first win, Stenhouse hopes it paves the way for a similar path taken by fellow Ford Performance driver Joey Logano.
"You know, I look at our first 150 or so, and I can only hope that the next 150 are going to be kind of like Joey Logano's," Stenhouse said. "He had 300 races, the first 150 weren't great, the next 150 were. Hopefully this is a start of that."
Stenhouse also gave Roush Fenway Racing their first victory since Carl Edwards won at Sonoma Raceway in June 2014.
Car owner Jack Roush had full faith in Stenhouse, knowing that it was only a matter of time before his driver would get it done.
Ricky demonstrated, of course, before he came to us six or eight years ago that he was a champion," Roush said. "He'd won at everything he'd done with his father, and of course he won the second year in the XFINITY Series and the third year consecutively, won the championships. I just needed to find the speed in the cars and get the organizational prowess to be able to do timely development that was acceptable to NASCAR, and I knew it would come together."
The win was special in more ways than one for Stenhouse, as hepaid tribute to late friend Bryan Clauson in Victory Lane.
"This year, every race were getting better and better," Stenhouse said. "We knew that Talladega was a good race track for us. Its been a good one in the past and Im just glad we parked it for my buddy, Bryan Clauson. He was with us on that last lap."
"I lost one of my best friends," Stenhouse later added. "We had a lot of good plans wanting to have together. They didn't work out. But the support of his family, the support of dirt-track fans all across the country, of myself and of Bryan has been really cool to see. It's been a while now, and the support and everyone remembering Bryan has not gone down at all. It has continued. And that's just the legacy I feel like Bryan left upon all of us."
Another cool moment for Stenhouse was when girlfriend, Stewart-Haas Racing driver Danica Patrick, joined him in the victory celebration. Patrick was one of 18 drivers involved in a massive crash on Lap 169 of 188, cutting her day short.
"Pulling into Victory Lane and seeing Jack and Danica standing there together, they're the same height (laughter), it was super special," Stenhouse joked. "She supports me through anything I need to do, whether it's spend more time at the shop, whether it's we need to fly somewhere a little bit later because I need to spend a little bit more time with the guys at the shop or want to go to dirt races or anything like that. She's been so supportive and knows how hard that I've worked, and to have her there was really awesome."
Stenhouse and the No. 17 team has shown good speed all season long. With three top fives, five top 10s and now a win under his belt, his confidence is only becoming greater.
"My confidence has been really high all year," Stenhouse said.We know what race tracks we need to work on. I think Kansas will be a good test for us. I feel like the older, wornout race tracks that we have on our schedule are really good for us.
"We're continuing to strive to make our cars better," he added. "I feel confident that guys back at the shop, Brian and everyone, there's not many teams that pay attention to the details I feel like that the No. 17 team does.