Rick Hendrick jokes about when Dale Earnhardt would 'use me for a raise'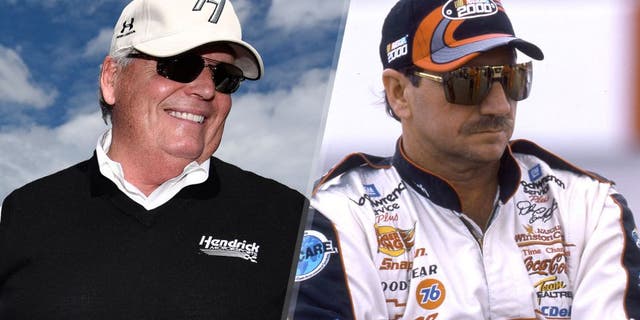 While team owner Rick Hendrick and the late Dale Earnhardt were fierce competitors, they were also good friends.
There was a time in the 1980s when Geoff Bodine drove for Hendrick and Earnhardt drove for Richard Childress Racing that the two didn't exactly see eye to eye, however.
Hendrick was asked about those more contentious years after Sunday's race at Atlanta Motor Speedway, where Hendrick driver Jimmie Johnson tied the late seven-time champion on the Sprint Cup Series' all-time wins list.
"He used to use me for a raise every time his contract was coming up (for an extension)," a grinning Hendrick said of Earnhardt, who died in 2001. "He would come talk to me and Childress would give him more money. I always told him to pay me a part of the increase."
Hendrick then recalled a scene from the 1990s hit movie "Days of Thunder" based on a real-life meeting that then-NASCAR chairman Bill France Jr. mediated between Bodine and Earnhardt at the height of their animosity for each other.

"We were really good friends," Hendrick said of Earnhardt, "but man, I told Bodine one day, I told him, 'If you see a snake on the ground, you either step on his head, you don't pick him up and shake him and turn him loose,' because the movie 'Days of Thunder' was a real deal. Richard and I were in that deal with Bill France, because they wrecked each other about every week and I always got the short end of the stick."
Aside from that relatively short period of time, Hendrick said he and Earnhardt always got along well.
"Back in those days it was a fierce battle, but ... before and after, it was good," he said.