Richt is top Dawg over Spurrier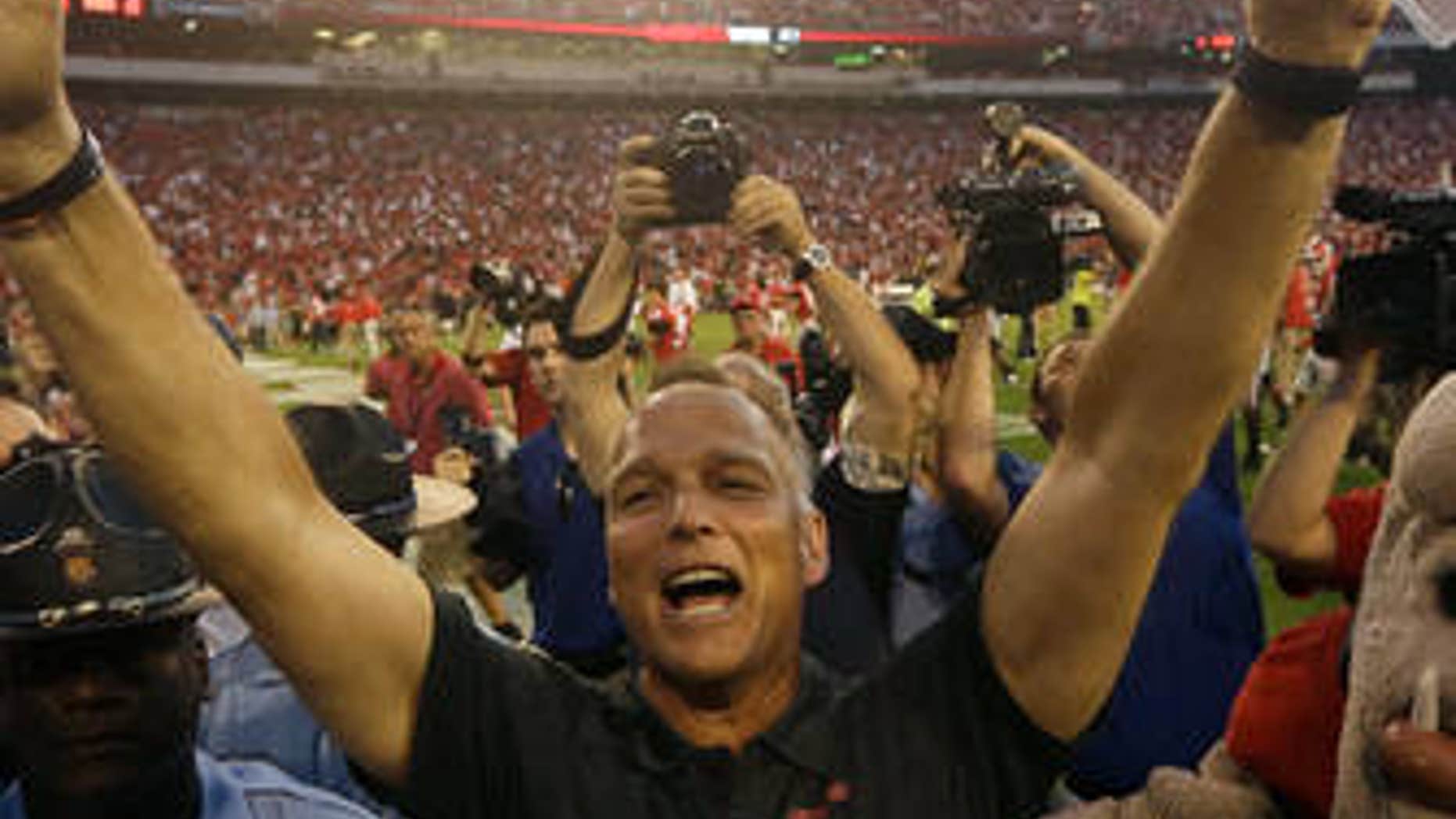 ATHENS, GA. – The game just ended, and four hours earlier, Georgia coach Mark Richt was a loser. Aaron Murray couldn't win the big one.
Steve Spurrier was a genius, with a real chance at a run for another national championship. Jadeveon Clowney was the best player in the country.
Until this: Georgia 41, South Carolina 30.
And Spurrier was ripping his assistants, and some of his assistants were nearly fighting on the sideline and Clowney was complaining that the coaches aren't using him right. South Carolina was unraveling.
"It's life in the SEC,'' Richt said. "Kind of like dog years. You feel a little older than you are sometimes. It'll wear you out.''
This was an emotional moment for Georgia, not the usual feel even from a big early-season win. Murray finally beat South Carolina, finally beat a top-10 team. Richt finally wasn't outsmarted by Spurrier.
Georgia's players were hugging each other as they left the field, and screaming and high-fiving, and finding kids in the crowd to whom they could throw stuff.
Georgia needed this to prove that it is there, at the top of the game. A week earlier, the Bulldogs had lost to Clemson to start the season, and it already was the beginning of the annual grumbling about Richt.
What am I saying? That was no beginning. There is no offseason to Georgia football. The grumbling about Richt is nonstop.
The thing is, while Spurrier's team was melting down, he won't have to live with this loss the same way Richt would have.
Georgia must be the most thankless job in America.
Somehow, Richt is the most embattled coach in the country. It is absurd. Georgia fans always think the Bulldogs should win the national championship, and then they always lose one game.
One game that kills them.
Look, everyone in the SEC wants to beat Alabama. They think they should be Alabama. I'm sorry, but in Nick Saban, you're dealing with possibly the best coach in college football history. Richt lost to him in the SEC title game last season by five yards, right?
Five yards.
Richt is an excellent coach, maybe a great coach. And if Georgia fans think they can find someone better than Saban, well, good luck. They see that in the BCS era, Tennessee has won it, and Auburn, Alabama, Florida, LSU.
How great for college football to have meaningful games from the start of the season, no matter how many years that added to Richt's coaching life. It's just so tough, though, he said, to have the pressure of all your goals piled up at the start of the season.
Yes, it is the pressure of being in the SEC, in a season filled with big games. In contrast, Louisville has a great shot at getting the BCS title game without even playing one big game.
Two well-played, well-coached games against top programs to start the season not only created yet another Richt roller-coaster, but also left the Bulldogs' season already hanging on.
I mean, it also left them in the ideal position in the SEC East. But if Georgia had lost to South Carolina on Saturday, there would have been plenty of calls for Richt to go.
Everything just changed Saturday. But it doesn't matter. It will change again in a minute if Georgia doesn't run the table from here.
And I think that same Georgia-angst has carried over onto Murray. He is a senior now, and has been around forever.
But really? Can't win the big one? You label a college kid that way? He is learning. In general, that's what people are doing in college.
Murray has been learning, improving.
He was great Saturday. Richt was aggressive early in the game, calling an onside kick after one of his assistants noticed a big gap in the way South Carolina was lining up to return kicks. (Outsmarting Spurrier?) He went for it on fourth and 13.
But as the game went on, he took fewer chances, and relied on Murray, who was extending plays, patiently waiting out things to develop without panic.
Early in the fourth quarter, with Georgia up 34-30, Murray threw down the left sideline to Justin Scott-Wesley, the state high school sprint champ, who caught the ball just short of midfield and then simply took off for the end zone.
Murray told me afterward that that play wasn't actually in the gameplan, and Georgia hadn't practiced it: "I just hoped everyone knew their routes.''
Murray said it wasn't a win for Richt and him, but for the team. But he did finally give in: "It feels good to beat those guys.''
Meanwhile, it got ugly for South Carolina. Clowney had his second below-average game, and his Heisman hopes -- I thought he was the favorite coming into the season -- are just about dead and buried.
He complained that he wanted to move around on the defensive line more, and not be stuck in the same spot all night. It was too easy for Georgia to scheme around him.
Meanwhile, Spurrier complained that the defense needs to start being more creative.
Whatever. This was Richt's day. He has deserved a lot more of them.