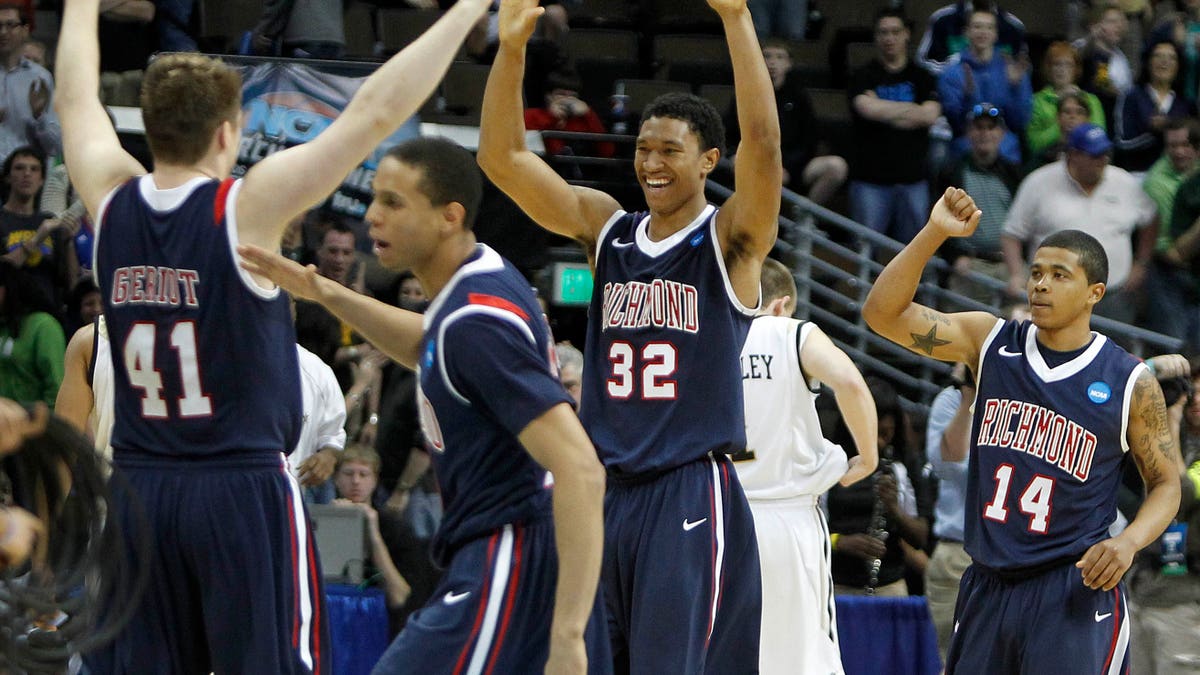 DENVER — Richmond added another upset to an impressive NCAA tournament resume that already had several.
And Vanderbilt exited early — again.
Kevin Anderson scored 16 of his 25 points in the second half, including a floater with 18.7 seconds remaining that helped seal 12th-seeded Richmond's 69-66 win against No. 5 seed Vanderbilt on Thursday in the Southwest regional.
The Spiders (28-7) sprang the second upset of the day at Pepsi Center after Morehead State, the 13th seed, used a 3-pointer by Demonte Harper in the waning seconds to beat fourth-seeded Louisville, 62-61.
But while Morehead State players fell on the floor, writhing in the celebration, the Spiders simply shook hands and walked to the locker room. This hardly counts as a shocker, especially considering their history in March.
Richmond beat an Auburn team led by Charles Barkley during the 1984 NCAA tournament and picked off second-seeded Syracuse in 1991.
This is the Spiders' first NCAA tournament win since they knocked out South Carolina in 1998 as a No. 14 seed, but the reputation has been cemented.
Maybe that's why this win didn't seem like all that big of surprise for the Atlantic-10 tournament champions, who were only a three-point underdog to the Commodores of the Southeastern Conference.
Justin Harper added 13 points and Francis-Cedric Martel contributed 12 as the Spiders won their eighth straight game.
"A very gutty effort by our team," Richmond coach Chris Mooney said. "I thought our poise and veteran leadership really showed through in this game."
Like many others around the nation, Mooney doesn't quite see this win as an upset, especially given the fact that No. 12 seeds routinely knock off fifth seeds in the tournament.
"We have a program that can compete on a national level," Mooney said. "We're proud of our tradition and history. But at the same time, right now we feel like we're a national program."
Vanderbilt had a chance to tie with 2.5 seconds left, but Rod Odom's desperation heave was nowhere near the hoop as time expired.
So much for the Commodores (23-11) vanquishing their tournament demons. They have now stumbled in their last three appearances in the NCAA, also losing to No. 13 seed Murray State on a last-second shot last season and falling to Siena, another 13th seed, in 2008.
They thought this could be the squad to end the drought.
But Vandy ran into a team that was every but its equal, despite what the seeds said.
"These teams are very, very close in talent and very close in ability," Commodores coach Kevin Stallings said. "They have very good players, a very good system.
"We're obviously very disappointed to have lost the game."
Vanderbilt big man Festus Ezeli and John Jenkins, the SEC's leading scorer, each finished with 21 points. Jenkins, though, was bottled up late in the second half, finding little room to unleash his quick jumper.
"We fought our hearts out. I can honestly say that," Jenkins said. "We gave it our all. We just didn't come out on the positive side today."
The Commodores hurt themselves by never finding an answer for Anderson, a diminutive guard who came up big time and again for the Spiders, making 4 of 9 from 3-point range.
"My teammates did a good job of finding me," Anderson said. "I was in the zone."
Trailing 48-39 early in the second half, the Spiders worked their way back into the game behind the shooting of Anderson, the league tournament MVP. Anderson hit three straight 3-pointers at one point during a 12-0 run to give Richmond a 51-48 lead.
Brad Tinsley finally broke the dry spell for Vanderbilt with a short jumper. The Commodores went more than 4 minutes without a basket.
Vanderbilt tied the game at 55 on a 3-pointer by Tinsley with 8:15 remaining, but Richmond took the lead for good on two free throws from Harper.
Just when it looked like the game was all but over, Richmond kept Vandy's hopes alive.
With Richmond up 68-65 and 5 seconds left, Darrius Garrett went to the line to secure the win.
But he missed and Harper fouled Ezeli underneath the basket.
Ezeli made the first free throw and purposely clanged the second, the ball skittering into the corner where Anderson tracked it down. He was fouled and made 1 of 2 to restore a three-point lead.
Vanderbilt called timeout and moved the ball to halfcourt before calling another. The ball was inbounded to Odom, hardly the Commodores' best option since he hadn't attempted a 3-pointer all day.
His shot was well short and fell into the arms of Kevin Smith standing in the lane.
The Commodores led by as many as 11 points in the first half, only to see the Spiders storm back.
Vanderbilt has had trouble holding onto leads this season, blowing a big advantage in an SEC semifinal loss to Florida.
Waiting for the Spiders is a Morehead State team led by big man Kenneth Faried, the all-time rebounding leader in Division I. He secured the win for the Eagles by blocking Louisville's last-second shot, setting in motion the festive celebration.
Meanwhile, Richmond took a much more subdued approach.
"We want to keep looking further into the tournament, not just be satisfied with this win," Anderson said. "We won one game. But we didn't win the tournament. That's our ultimate goal."
Even upset specialists can think big.
____________________________________________________________________________________________________________________________________________________________________________________________________________
DENVER — On the verge of seeing his unheralded, 13th-seeded Morehead State program turn into something much more impressive, the coach could have called a play for his NBA-bound center or his guard who couldn't miss.
Instead, he decided to go with a dream.
Executing a play that came to his coach the night before, Morehead State's Demonte Harper dribbled patiently and watched the clock tick down. Then, he stepped up behind the 3-point line and swished the shot with 4.2 seconds left Thursday for a 62-61 victory over No. 4 Louisville and the first big upset of the NCAA tournament.
"The coach said, 'Hey, I dreamed about this last night, this exact situation,'" Harper said. "He said, 'I know exactly who I'm going to. I'm going to put it right in your hands, Demonte.' He said,
'At 6 seconds, I want you to attack and pull up and hit the shot.' I hit the shot. It feels unreal right now."
After Harper's go-ahead basket, the Cardinals (25-10) had a chance to win it, but Morehead State's best player, center Kenneth Faried, blocked Mike Marra's attempt from the corner.
And that's how little-known coach Donnie Tyndall, and not Louisville's Rick Pitino, found himself on the floor of the Pepsi Center celebrating. Morehead State of Kentucky — enrollment 9,000 at the base of the Appalachian Mountains — won its first main-draw game in the NCAA
tournament since 1984 and will play No. 12 Richmond, a 69-66 upset winner over No. 5 Vanderbilt in a later Southwest region game.
"I think to be a first-round game against an in-state power, to be able to knock them off, I don't think it's ever been bigger than that in the history of our school," Tyndall said.
____________________________________________________________________________________________________________________________________________________________________________________________________________
DENVER — Marquise Carter scored a career-high 24 points, lifting 11th-seeded Gonzaga to an 86-71 victory over sixth-seeded St. John's on Thursday night to cap a stellar day for the underdogs at the Pepsi Center in the NCAA tournament.
The Bulldogs (25-9) were the third lower seed to spring an upset, joining No. 12 Richmond and No. 13 Morehead State.
These days, Gonzaga can hardly be considered an underdog, especially with its rich history of tournament upsets. The Bulldogs move on to face third-seeded BYU, the only team that survived a scare on this floor. The Jimmer Fredette-led Cougars knocked off Wofford, 74-66.
The Bulldogs used their size and strength to muscle around the Red Storm (21-12), who were back in the tournament for the first time since 2002. Gonzaga outrebounded St. John's by a 43-20 margin.