Richards sees long spring in Boston, San Jose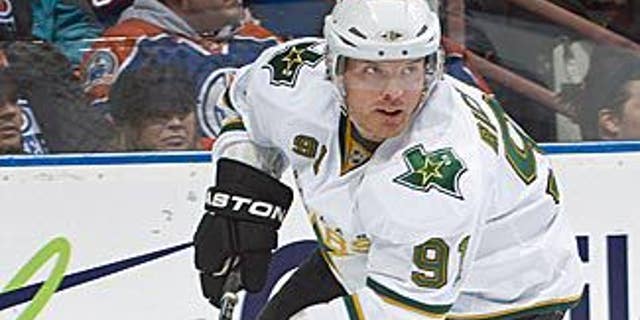 Of all the unexpected results so far in this postseason, most would probably agree that the biggest ones have been authored by the upstart Lightning. Tampa Bay is in the Stanley Cup Playoffs for the first time in four years, but that didn't stop the team from rallying off three straight wins to upset the Penguins in seven games during the first round or jumping out to a 2-0 series lead over top-seeded Washington as their series shifts to the St. Pete Times Forum on Tuesday night.
The Bolts haven't reached the Eastern Conference Finals since they won it all in 2004 and if anyone can identify with making a deep postseason run in South Florida, it's the man who won the Conn Smythe Trophy as the playoff MVP when the Lightning won their only championship. Brad Richards scored 26 points in 23 games that postseason, and while he left Tampa Bay in a deadline deal that sent him to Dallas in 2008, he's still kept close tabs on Vincent Lecavalier and Martin St. Louis, the two players remaining from the Lightning's banner year that never left Tampa.
"They obviously haven't been to the playoffs for a few years," Richards said Tuesday during an afternoon visit to NHL headquarters in Manhattan. "I've talked to them about how excited they are to get back and making a run, that'll get you going, too."
Lecavalier, the long-time captain of the Lightning, has been an important fixture with the franchise since playing his first season in 1998-99, and he and St. Louis share a strong connection on the ice that has helped to fuel the Bolts, who can now combine their veteran experience with a talented youth movement that includes Steven Stamkos and Victor Hedman. But even with Lecavalier's contributions, it seems that St. Louis, who won the Hart Trophy as the League's MVP in that Cup-winning season and is a finalist again this year, is the driving force behind the Bolts' postseason surge.
"Marty, I think, has stirred the drink in Tampa for a while," Richards said. "His work ethic and how he plays with the size and everything, he obviously loves the game and plays that way. He and Vinny are close and they kind of pull each other. That pulls Vinny along and he'll pull Marty along. They help each other motivate themselves.
"Their talent level, obviously, is up at the top of the League."
Despite the obvious pressure the Capitals will face on Tuesday and Wednesday night, and Richards' connection to Tampa Bay, he isn't of the mindset that Tampa Bay will put a swift end to the series. Because of the close nature of the first two games, it's hard to assume the Lightning will breeze to a four or five-game victory.
If the Bolts could pull it off, it would certainly be a boon, but the Lightning aren't the team Richards forecasts to come out of the East -- though, like any wise prognosticator, he did include the disclaimer that, "in three days or four days you could have a whole different view."
"I think maybe San Jose and Boston," Richards said. "If San Jose can get out of the Detroit series quick, they're going to be hard to beat. But it Detroit gets that back to a long series they might beat each other up too much."
That matchup would guarantee a Cup champion not seen in decades. The Bruins haven't won it all since 1972 and San Jose is seeking its first ever berth in the Final after years of knocking on the door. Both the Sharks and Bruins are up 2-0 in their conference semifinals series -- in the case of the Sharks, those two wins at HP Pavilion have been on the one-goal-margin variety.
"San Jose, this could be a huge turning point for them," Richards said. "But Detroit's good. You could have seen the first two games go either way. You could say that in any series, but particularly in that series. I'm sure Detroit will have their 'A' game back at home."
Still, when going through the eight teams remaining, Richards continued to cite one major factor in his championship experience: taking care of business and doing it quickly. With three different teams holding a two-game edge in their second-round series, finishing off their opponents soon -- if they finish them off at all -- could be a determining factor in which players have smiles on their faces during the season's final post-series handshake.
"It kind of depends," Richards said. "You know when we won -- if you get through one or two series quick, it helps so much and Boston went to Game 7 (in the first round) -- if they were able to get through in four or five games against Philly that would be huge."
Of course, Boston may be the only team anxious if it gets a 3-0 lead. After last season's historic collapse to these same Flyers in the second round, the Bruins will almost certainly get questions about concerns of another collapse should they win Game 3 in Boston on Wednesday night.
Should that happen, the circumstances will be slightly different. Boston had home ice a year ago when the Flyers won four straight games to complete only the third comeback from an 0-3 deficit in NHL history. While that did mean Philadelphia had to win Game 7 in Beantown, it also meant they could get the wheels rolling by playing two of the three games needed to tie the series in front of a friendly Philly crowd. This time around the Bruins get Games 3 and 4 at home.
Before that even becomes an issue Boston will need to win Game 3, but clearly, any player would want to continue winning regardless of a recent precedent. Given the staggering odds against completing such a comeback once, let alone in consecutive seasons, any concerns about getting a 3-0 lead would probably seem ridiculous to most, and with multiple deep playoff runs on his resume Richards is no different.
"I'm in the same shoes as you," he said. "I haven't been up 3-0 in a series and lost it. I would imagine it creeps into your mind a little bit, but I'm sure they'd rather get up 3-0 now and worry about the next game when it comes.
"It's only happened three times. I'd rather take my chances getting up 3-0 and seeing what happens."