Richard takes the mound for Padres in series finale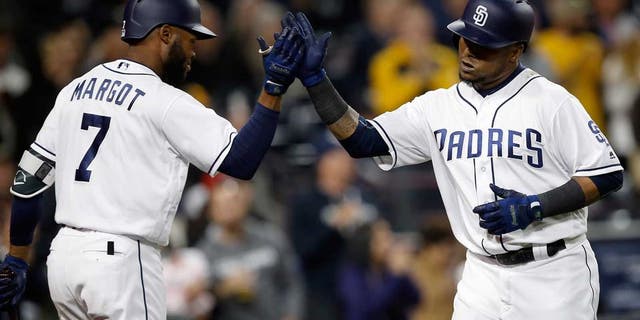 SAN DIEGO -- The Padres' Clayton Richard has been effective this season by keeping things on the down low.
"He's getting outs on the ground consistently, which is his best recipe for success," San Diego manager Andy Green said.
The left-handed Richard (1-2, 3.60 ERA) faces the Arizona Diamondbacks on Thursday night to cap this three-game series, with each team owning a win. Arizona counters with southpaw Patrick Corbin (1-2, 2.81).
What Richard will have to conquer are the Diamondbacks' sturdy bats. Most are held by men that can redirect the sinker that is Richards' go-to pitch.
"Out of any team in baseball he is going to face this year this is probably his toughest matchup," Green said. "They have guys that will handle left-handed sink. So he has a tough test in front of him."
The Diamondbacks have Richard killers sprinkled throughout the lineup: Yasmany Tomas (4-for-7), Paul Goldschmidt (5-for-16 with seven RBIs) and Chris Iannetta (2-for-6).
"They do have guys that will look over his pitch," Green said. "He had a tough time with them last year."
Richard dropped two of this three starts against the Diamondbacks. But he's had his way with Arizona for the most part, claiming eight of 11 decisions while pitching to a 3.97 ERA.
But that's behind Richard, just like his wacky numbers from his last outing. He lost to the Atlanta Braves on Saturday despite going six strong innings at SunTrust Park. Richard was derailed in the 4-2 loss by two sixth-inning solo homers by Brandon Phillips and Adonia Garcia.
"The guy gets 14 groundball outs and ends up giving up two home runs," Green said. "That is an absolute anomaly. It doesn't happen."
What's happening with Corbin is a rinse-and-spit of a dreadful 2016, when he went 5-13 with 5.15 ERA.
But new manager Torey Lovullo kept a close eye on Corbin in camp. He liked what he saw then and what he saw when the season started as well.
"I spent most of my spring training watching these guys, to find out what their bodies are telling me without have to say something, non-verbal communication," Lovullo said. "So I saw in him that he is very comfortable and confident."
Corbin has produced consecutive quality starts. He gave up five runs (three earned) in six innings in a loss at the Dodgers on Saturday.
In the previous start, it was six innings of scoreless ball in a 3-2 win over the Indians.
"I think he has pitched very good," Lovullo said. "He has had a couple tough breaks that hasn't allowed the line to look as good as it has.
"But he's on the attack. He's very prepared to come and perform. He worked hard in spring training to make sure he was ready for the start of the season."
He gets the start Thursday, his seventh against the Padres. He is 3-3 with 3.16 ERA.
"The stuff speaks for itself," Lovullo said. "The command has been very good, his execution has been very good as well. The command and execution I think go hand and hand."
But it's what's in Corbin's head which gives Lovullo confidence.
"I think it is a belief that he is just ready for the moment," Lovullo said. "I know last year was a very trying year for him and he has put that behind him."