Richard Sherman marvels at the recently-retired Calvin Johnson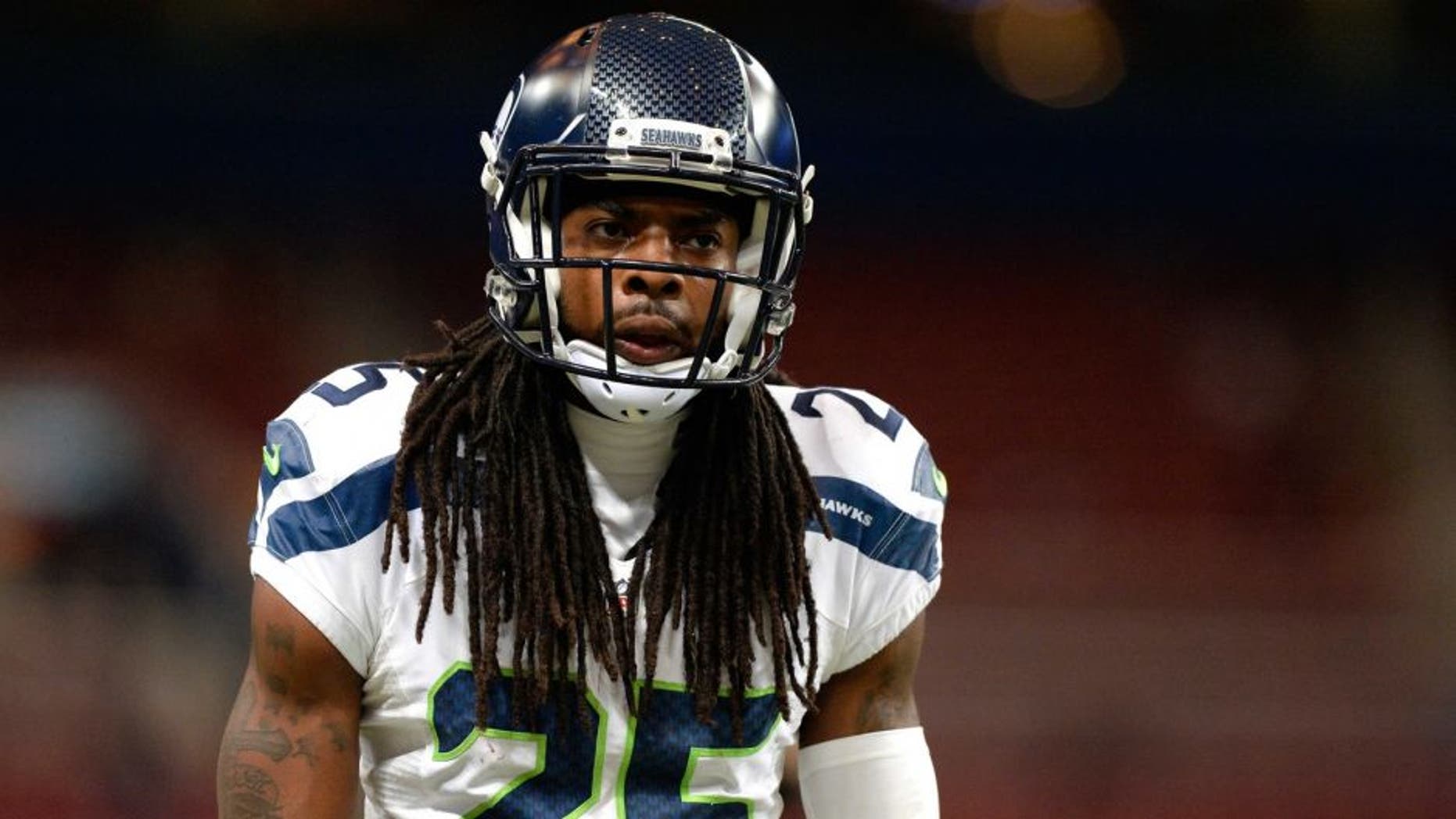 Brett Smiley recently chatted with Seattle Seahawks 3-time first-team All-Pro cornerback Richard Sherman about offseason life, post-football plans, his new commercial for Oberto's beef jerky, and duck-sized Kam Chancellors.
FOXSports.com: There's been some notable retirements the past couple weeks with Calvin Johnson and then Peyton Manning. What was the hardest part about defending Calvin?
Richard Sherman: He's just such a big man. Usually when a man's that big you don't have to worry about him being overly quick or fast, but he was both of those things. Just an incredible athlete. Obviously he had incredible jumping ability so you'd just have to find your ways to put your body in position to make sure he wasn't comfortable in spots but that was almost impossible to do with him. So he was a big challenge every time.
FS: You guys obviously got the best of the Broncos and Peyton in Super Bowl XLVIII after they were an offensive juggernaut in the 2013 regular season. Any fond memories of competing again Peyton?
RS: It was always an awesome challenge competing against Peyton, too. He's such a student of the game, a technician in his approach and demeanor. It makes it much more of a chess match playing against him, figuring out his tendencies, where he likes to go and what ways to attack our defense. So we had a tremendous time trying to contain him and he'll be missed in this game. He's an innovator and a legend.
FS: You got your degree in communications at Stanford. What do you see yourself doing when you eventually retire from the NFL?
RS: I'll probably sit behind a desk, in front a camera and talk about the game. I don't think I'll be too far removed from the game. I'll be on some show. Or make my own show!
FS: Do you ever give Russell Wilson a hard time for being so sappy with Ciara on social media?
RS: [Laughs.] No, I never pay attention to that but I'm sure my teammates do.
FS. It seems like Gronk is in every commercial break these days. You guys were on the set together for these Oberto commercials. What's it like working with him?

RS: He calls himself "One Take Rob." He's a fun guy to work with. He's a very fun, open personality, cool guy to hang out with so we had a good time doing that.
FS: So you're about six weeks removed from the Seahawks' last game of the season. What's a typical day like for you from morning to bedtime this time of year?
RS: After I wake up I get to the building, get some treatment, get stretched, worked out, I might go to the chiropractor. Hit the weightroom for a quick workout then go to the field for another quick workout, then head home and spend some time with family. I may get some lunch or dinner with friends and go home. Not a bad day!
FS: Seems like you're really into video games and virtual reality. What are you playing these days?
RS: I like The Elder Scrolls, Call of Duty is a fun one, and NBA2K is always cool when you want to live your dreams of being an NBA player.
FS: Speaking of basketball, do you follow college hoops much? Who do you think has the best shot to win the tourney?
RS: Well, Stanford hasn't been doing great so I've kind of tuned it out a little bit. There's a lot more parity this year than in years past, no real dominant teams. It seems like every week a new number one team is losing, so I think the tournament will be an interesting one this year.
LIGHTNING ROUND!
FS: Favorite sport to watch other than football?
RS: Basketball.
FS: Which website do you visit most frequently?
RS: Google.
FS: Player on another team you admire most?
RS: Michael Thomas (Miami Dolphins).
FS: Would you rather play in mud, downpouring rain or freezing cold like you guys had at Minnesota in the Wild Card round?
RS: Downpouring rain.
FS: If you had 100 at-bats against Felix Hernandez, how many hits would you get?
RS: He'd probably give me a couple, so maybe 10.
FS: Which teammate has the messiest locker?
RS: Michael Bennett.
FS: Adapted from Reddit: Would you rather fight 100 duck-sized Kam Chancellors or one elephant sized Kam Chancellor?
RS: I would like to pit the elephant-sized Kam Chancellor against the duck-sized ones, get them real tired, and then try to handle them after they've finished fighting. Not if they all fight me, though. One or the other.