Richard Sherman explains why cornerback is harder to play than wide receiver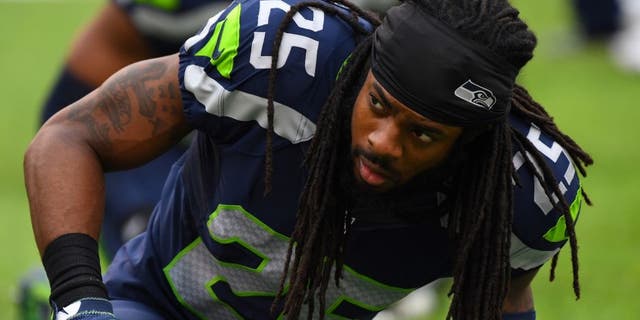 So much of the game today is built around cornerbacks and wide receivers. The NFL is such a passing league that teams are investing heavily in not only quarterbacks but pass catchers and defensive backs, too.
Both of those positions are incredibly important to the team, and neither is particularly easy to play. However, according to Seattle Seahawks Pro Bowl corner Richard Sherman, cornerback is the more challenging position.
He explained why, via ProFootballTalk:
"Corner because you never leave the field," Sherman told reporters. "You don't get to leave the field, you don't get to sub, you don't get to rotate. If there's two receivers out there on the field, you're out there. It's not like you get to swap, this receiver went out so somebody else comes in, it doesn't matter. If they're tired, they get to sub out and bring someone else in."
Sherman cites the Seahawks' Super Bowl against the Broncos as a reason corner is the more difficult position.
"That was one of the challenges when we played Denver in the Super Bowl. They're rotating the receivers in and out every three plays and we're out there," he continued. "They get to get fresh, they get to take a breather and take a break. Sometimes the receivers never even go back to the huddle, they'll just run out to the sideline and you turn around, you're 60 yards down the field and a new receiver is standing there. That's something that some people don't think about playing corner."
He's right. Sherman, or any top cornerback for that matter, rarely comes off the field on defense. The defense simply can't afford to have that happen, seeing as it would leave a No. 1 receiver on a backup cornerback. Not that it needs to be said, but that's not exactly an ideal scenario.
In addition to the increased stamina cornerbacks require due to their constant presence on the field, Sherman cites the NFL's offense-favoring rules as a reason for wide receiver being the easier spot to play.
"A receiver can push you down the field, a receiver can grab you, pull you, and there's no penalty for that," Sherman said. "If you touch him, if you try to defend yourself, if you push him past five yards, illegal touching, that's an automatic first down. Even if its third and 50, that's an automatic first down. If you're standing there in your own spot and they run into you, and they call that illegal contact, that's an automatic first down.
"Whether it's third- or fourth-and-50, fourth-and-15, if you're set up for an easy interception and they tackle you to the ground, that would be a 10-yard penalty, no loss of downs, no anything. They'll probably get that 10 yards back from another penalty or something. Holding, automatic first down. Every penalty that can be called on defense is just about an automatic first down. Very difficult to play in that position."
Sherman will have his hands full this week when Atlanta's Julio Jones comes to town. Though he's not one to typically shadow a receiver all around the field, Sherman will likely see No. 11 across from him fairly often.
With the way Jones has played this season, he seemingly has the upper hand in this matchup. He's been nearly unstoppable, but Sherman is one of the best corners in the game -- and he plays in a top-five secondary. This will be a matchup to watch on Sunday afternoon.