Richard Jefferson announces he's returning to Cavs on 2-year deal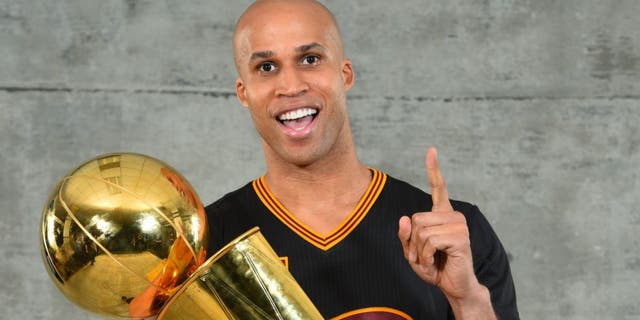 NEWYou can now listen to Fox News articles!
The Cleveland Cavs added a new piece to their championship team Wednesday night and locked up a key member of that title run.
Richard Jefferson announced his return on a two-year deal while the Cavs bolstered their small forward position further by agreeing to a deal for Mike Dunleavy Jr. Chris Mannix of The Vertical reported Jefferson's deal is worth $5 million.
Jefferson, who just turned 36, played key minutes off the bench in his first season in Cleveland, especially in the playoffs when Kevin Love struggled. Jefferson said he was retiring immediately after the Cavs won the title, but then said he'd come back if the fans wanted at the championship parade.
The 6-foot-7 forward isn't the scorer he once was but he shot 45.8 percent from the field last season, including 38.2 percent on 3's, and was a better fit than Love in the Cavs' uptempo offense. His numbers were even better in the playoffs, as he shot 52.4 percent from the field and 75 percent from the line.