RG3: I want defenders to hit me late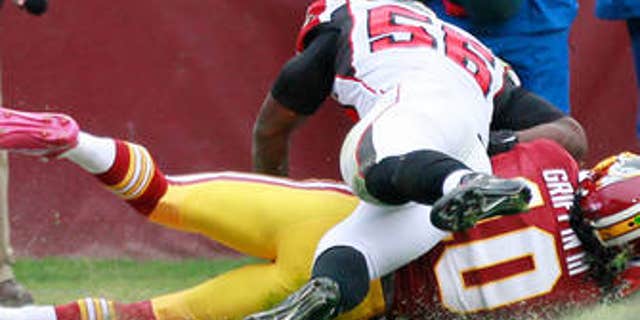 Robert Griffin III is still getting his legs back, dealing with critics constantly calling for him to slide more often and avoid taking the big hits that led to concussions and knee injuries in his rookie season.
The Redskins QB's response? He's going to try to take more big hits, of course.
Speaking with ESPN on Wednesday, the second-year Washington signal-caller said that he will try to draw late-hit penalties on defensive players by using their instincts and the NFL rules to his advantage. In particular, he will step out of bounds when he sees a defender charging and suspects that guy isn't going to slow up.
"There will be situations, and that's why guys don't want to pull up," he told ESPN. "It's happened in the past with Mike Vick or someone like that who has run to the sidelines, stopped and then gotten 20 more yards because the guy runs out of bounds trying not to hit the quarterback."
Griffin drew two late-hit flags on the sideline last week against Dallas, but insisted it wasn't due to any ploy. But he also admitted to trying to trick Detroit DB Rashean Mathis into a flag in Week 3. "He's a smart player; he didn't hit me," Griffin said. "I kind of stopped well inside in bounds to try to get him to hit me and he didn't. He said, 'I'm not taking that penalty, Griff.' I said, 'I got you, man.'"
He added: "The sideline is your friend and you can get out of bounds, but a lot of defensive players, they just really don't care. Sometimes they're going to still get that hit on you."
Of course, taking hits on the sideline comes with risk. Last season against Atlanta linebacker Sean Witherspoon delivered quite a blow when Griffin scrambled, trying to get into the end zone. RG3 did not score a TD, but he did land a concussion.
The original article can be found at FOXSports.com: RG3: I want defenders to hit me late.