RG3 dresses for first time, says 'I'm here to support'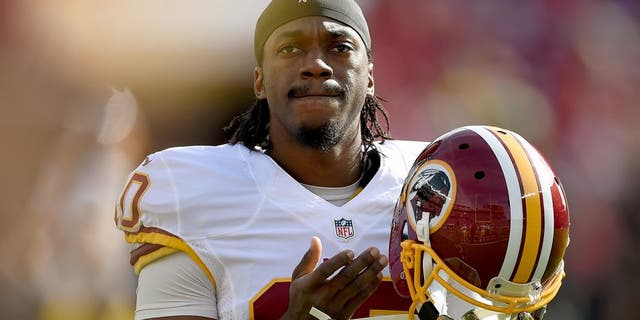 NEWYou can now listen to Fox News articles!
Redskins quarterback Robert Griffin spoke with the media for the first time all season. Thearon Henderson Getty Images
Washington Redskins quarterback Robert Griffin III dressed for the first regular season game in 2015 in a Week 6 34-20 loss to the New York Jets. Griffin admitted to being surprised by the team's decision to have him suit up in Week 6 after five straight healthy scratches to start the season.
"I'm here to support; support the team, whoever's starting, whoever's playing. So, that's not my call," Griffin said to reporters after the game. "I was not expecting it. You obviously come in here and expect to win, so I wasn't expecting that at all."
Starting quarterback Kirk Cousins struggled with interceptions again, but Griffin refused to take the bait when reporters asked him about the possibility of seeing him regain the starting quarterback job.
"Nah, man, I'm not going to talk about myself, our team, we need to win next week," Griffin said. "That's all we're focused on. I'm not focused on what I've had to go through or anything like that. We're just focused on Tampa Bay for next week. Get ready to go. We've got to get a win before the bye."
MORE NEWS: Want stories delivered to you? Sign up for our NFL newsletters.