RG3 can't stay healthy in 'Madden NFL 16' video game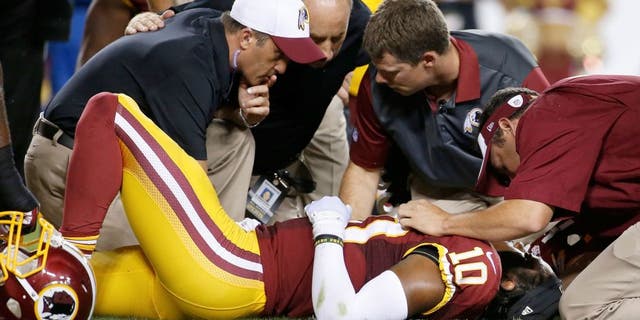 Washington Redskins quarterback Robert Griffin III has had issues with injuries since entering the NFL. Over the last two seasons, he has dealt with various lower body injuries that have forced him to miss up to 10 regular season games. Apparently, RG3's injuries extend past the football field.
The EA Sports Madden NFL video game franchise has recently dropped their newest update, "Madden NFL 16". In the new game, video gamers who have tried to use RG3 in franchise mode have run into the same issue that the Redskins' franchise has encountered throughout his tenure with the team.
In reality, RG3's injury rating is a 77 in the new game. Only three starting quarterbacks have been deemed more injury prone than RG3 and with a worse rating. Those three include Sam Bradford, Josh McCown and Carson Palmer.
In the Redskins' second preseason game, RG3 was forced from the game with a concussion. The first team offensive line struggled in pass protection while RG3 was in the game. One viewer mentioned that it was like watching RG3 in a game of Madden.
Factoring in the poor offensive line play as an indicator for RG3's consistent injury report appearances might have some legs to it. We haven't heard any Eagles or Browns fans complain about constant injuries to Bradford and McCown just yet. Then again, neither of those two quarterbacks have gone down already in the preseason.