RG3, Arians, Watt, Kuechly win NFL awards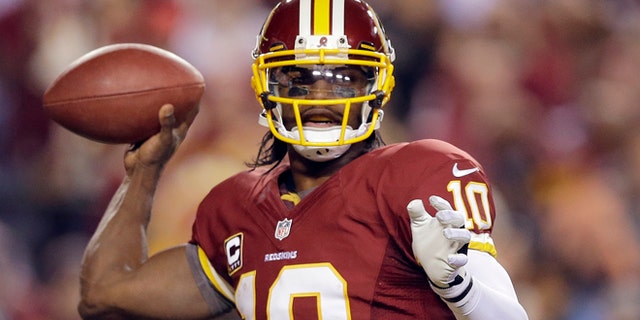 NEW ORLEANS – Robert Griffin III has an award -- and a warning for the NFL.
The Redskins' Griffin beat out fellow quarterbacks Andrew Luck and Russell Wilson to win The Associated Press 2012 NFL Offensive Rookie of the Year award. From a brilliant rookie class, RG3 was a strong winner Saturday night in voting by a nationwide panel of 50 media members who regularly cover the league.
"It's truly a blessing to be up there -- to be able to stand, first and foremost," said Griffin, who underwent knee surgery last month. He added that next season "you'll see a better Robert Griffin."
Wearing a burgundy and gold tie, in honor of his Skins, Griffin said his goal is to be ready for the season opener.
Bruce Arians became the first interim coach to win NFL Coach of the Year honors. Now the head coach in Arizona, he replaced Chuck Pagano in September when the Colts' coach was diagnosed with leukemia. Arians went 9-3 before Pagano returned, and Indianapolis made the playoffs at 10-6, making Arians an easy winner.
"It's hard to put into words the feelings of this past year," said Arians, who was hired by the Cardinals in late January. "This was kind of the cherry on the top, whipped cream and everything else you put on top."
The awards were presented Saturday night at the "2nd Annual NFL Honors" show on CBS saluting the NFL's best players, performances and plays from the 2012 season.
Adrian Peterson won the Offensive Player award just one year after major knee surgery. The Minnesota running back rushed for 2,109 yards, 9 short of Eric Dickerson's record, and helped the Vikings go from 3-13 to 10-6 and the playoffs.
Houston end J.J. Watt swatted the competition for Defensive Player of the Year, getting 49 votes; Denver's Von Miller got the other in the most lopsided balloting of all the awards.
"In my plans it was there," Watt said of being honored. He led the NFL with 20 1-2 sacks and also blocked an astounding 16 passes. "It sets the bar for me. I want to go out and do even better. I want to do even bigger things."
Carolina linebacker Luke Kuechly, the league's leader in tackles with 164, won the top defensive rookie award.