Rex Ryan coy on QB situation, won't rule out Tyrod Taylor against Bengals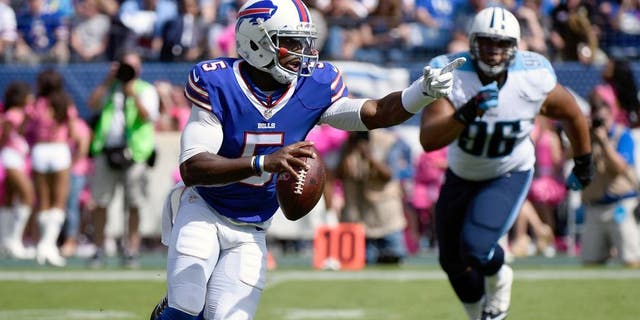 NEWYou can now listen to Fox News articles!
Buffalo Bills head coach Rex Ryan is either trying some quarterback subterfuge or there is a legitimate chance the injured Tyrod Taylor plays Sunday against Cincinnati.
FOX Sports NFL Insider Mike Garafolo reported Tuesday that the Bengals are preparing for backup E.J. Manuel to start because Taylor suffered a knee injury in last Sunday's 14-13 win over Tennessee. The Bills also have signed free-agent veteran quarterback Josh Johnson, which casts further doubts about Taylor's short-term availability.
Ryan, though, wasn't prepared to name his starting quarterback during a Wednesday morning appearance on SiriusXM NFL Radio.
"I would not rule out Tyrod Taylor as starting this week although I know it's widely reported that that's the case," Ryan said. "We'll see. That's a possibility but I certainly wouldn't count Tyrod Taylor out. He did finish the game this past week.
"I can tell you this -- he's got heart, he's got toughness and he's got a lot of ability. I definitely would not rule him out."
Taylor, who spent his first four NFL seasons as a seldom-used Baltimore Ravens backup, beat out Manuel and the now-departed Matt Cassel for a starting spot during training camp. Taylor has guided Buffalo to a 3-2 record. He also set the franchise's single-game rushing record for a quarterback against Tennessee with 76 yards and one touchdown on eight scampers.
Taylor's absence against the red-hot Bengals (5-0) would be yet another blow to an offense that may not have the services of its top two running backs in LeSean McCoy (hamstring) and Karlos Williams (concussion).
Manuel has failed to live up to his standing as a 2013 first-round draft choice but showed noticeable improvement since Greg Roman became offensive coordinator upon Ryan's offseason hiring.
"We have a lot of confidence in E.J. That's why we traded Matt Cassel," said Ryan, referring to last month's deal that sent Cassel to Dallas. "E.J. had a terrific preseason. In fact, he had one of the highest quarterback ratings in the entire NFL ... We're really happy with him if in fact he is playing quarterback."
A further quarterback update will be available later Wednesday when the Bills practice.