Revitalized Chelsea grab impressive road victory at Palace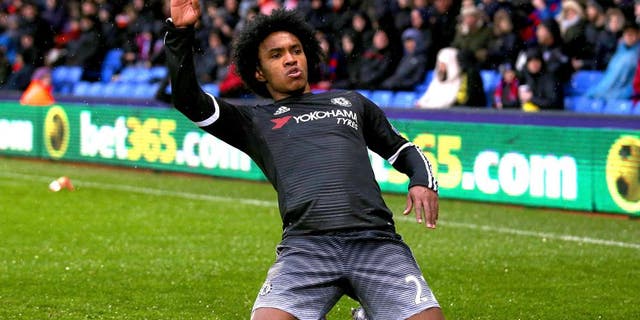 Slowly, perhaps, the old Chelsea is beginning to re-emerge. A 3-0 victory over Crystal Palace that extended the unbeaten run since the dismissal of Jose Mourinho to four games and lifted it to 14th in the table perhaps isn't too much to get excited about, but there were performances from Cesc Fabregas and Diego Costa to raise the question of what on earth had gone wrong in the past six months.
That there was a freedom to Chelsea is perhaps understandable. Mourinho always demanded discipline before adventure, particularly in adversity, so it's natural that his departure should allow a greater level of self-expression from the likes of Oscar and Willian. The Brazilians scored the first two goals, both resulting from the sort of brisk passing moves that should be standard for this Chelsea. Diego Costa added a third -- his third in the last two games.
What is less readily explicable is the apparently greater fight and desire of a number of players and their renewed willingness to make the sort of runs in behind defences that open up the pitch. Why was that not happening in the first half of the season: tactical instruction? Apprehension? Disinclination?
Fabregas, in particular, seemed reborn, perhaps benefitting from the solidity of Mikel John Obi alongside him. He was instrumental in the first two goals but was more generally effective, linking play, constantly probing, his touch and appetite back after almost a year of labouring. Only Eden Hazard remained under the cloud that has blighted Chelsea all season as he was forced off after quarter of an hour with what appeared to be a groin strain.
By kick-off, it had been raining in south London for 23 hours and it continued to rain throughout, steady unremitting rain, punctuated by harder bursts that rattled on the barrel roof of the stand. Chelsea's black away kit, with its fading to white on the shorts, looked as though it had run in the deluge. In the circumstances, the pitch played remarkably well, the surface slick rather than soggy.
It seemed initially to suit Palace, arguably the quickest side in the Premier League this season. Chelsea has been vulnerable to pace and direct running for a couple of years now and for much of the opening quarter of the game, Palace offered a persistent threat. A handful of crosses flashed unconverted across the face of goal and Wilfried Zaha, on his 200th Palace appearance, flashed a shot just wide.
But it was Chelsea that took a 29th-minute lead. Mikel John Obi claimed the ball in the center-circle and rolled it to Fabregas, who slid a pass through for Diego Costa. It may be that on a drier day Damien Delaney would have intercepted, but the pass eluded him and ran perfectly into the stride of Diego Costa, a reminder of the link-up that was so lethal in the opening part of last season but that has been almost entirely absent this. The Spain international might have shot but he cut the ball back for Oscar, who simply had to roll it into an empty net.
"That's why we're champions," the Chelsea fans chanted, and they were right. And the absence of that is why Chelsea won't be this season. If Hiddink can coax Fabregas and Costa back to form, though, Chelsea could perhaps surge up the league or mount a serious challenge for the FA Cup or even Champions League. There were further signs of recovery as he lofted a finely calibrated ball over the Palace back four for Cesar Azpilicueta to charge onto. On this occasion there was nobody else in the box, Azpilicueta was forced to shoot and Hennessey made the parry.
It was then his pass that released Oscar in space just before the hour. As he jinked right he was probably fouled by Scott Dann, but the ball ran kindly for Willian, who struck a first-time shot from 25 yards into the roof of the net. Willian, easily Chelsea's best player this season, was key to the third, charging by Pape Souare and hitting a low angled shot that Hennessey could only push out for Costa to knock in his sixth league goal of the season.
The margin of victory perhaps flattered Chelsea a little but this was an emphatic win, one born of the sort of incisiveness and ruggedness that used to be standard. The top four is still an awfully long way away but, six points above the drop zone, relegation surely has ceased to be a realistic concern.