Revisiting the Bengals' trade of Carson Palmer in 2011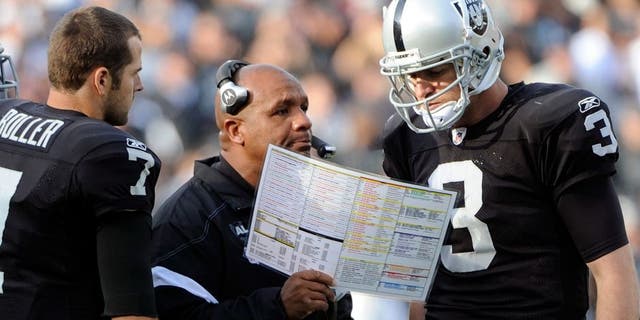 Carson Palmer is in the midst of one of the best seasons of his career and is seen as a potential MVP candidate with the Cardinals 7-2 and playing extremely well. But had it not been for a high-profile trade in 2011, Palmer may not have ended up in Arizona at all.
Following a very disappointing 2010 season in Cincinnati, Palmer essentially demanded that owner Mike Brown trade him from the Bengals. If not, Palmer was ready to hang up his cleats and retire. Trading a franchise quarterback isn't something that happens often, but it was a move the Bengals had to make.
Four years later, it looks like Brown and the entire organization made the right decision to ship Palmer out of Cincinnati.
In October of 2011, the Bengals traded the "retired" Palmer to the Raiders for a first-round pick in 2012 and a second rounder in 2013 -- a significant amount of compensation for a quarterback who had no interest in playing for Cincinnati.
Looking back at the trade, the Bengals certainly got the better end of the deal, turning those two picks into contributors on both offense and defense.
Dre Kirkpatrick: With their first-round pick from the Raiders, the Bengals took Kirkpatrick, a cornerback out of Alabama. He struggled early on in his career, but he's turned into a solid player in the Bengals' secondary, starting eight games this season. He has eight passes defensed in 2015 after recording just 12 in three years prior.
Giovani Bernard: The Bengals selected Bernard with their 2013 second-round pick acquired in the trade. Bernard has really emerged in 2015, even after having two solid seasons in 2013 and 2014. He's averaging a league-high 5.5 yards per carry for running backs with at least 99 carries despite not having started a game this season. His 547 yards rushing are 14th-best in the NFL and has provided a much-needed boost to the Bengals' high-powered offense with starter Jeremy Hill struggling.
As for Palmer, he led the Raiders to an 8-8 record in 2011, winning four of the nine games he started. In 2012, Oakland was even worse, posting a disappointing 4-12 record. Following the 2012 season, the Raiders traded Palmer and a seventh-round pick to the Cardinals for a sixth-round pick and a conditional pick in 2014. Needless to say, the Raiders' two-year rental of Palmer didn't work in their favor.
What tends to get overlooked in this deal is the fact that Marvin Lewis was able to lure Hue Jackson to Cincinnati following the 2011 season to be the team's offensive coordinator. That wasn't a direct result of the Palmer trade, but the Raiders' collapse under Palmer certainly helped bring Jackson to Cincinnati.