Return of Robert Mathis gives Colts options at pass-rusher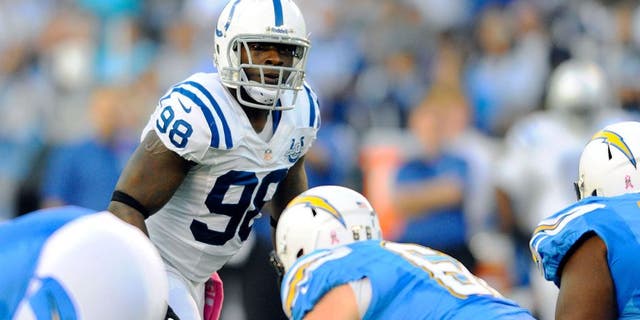 The Indianapolis Colts signed linebacker Trent Cole in the offseason without knowing when injured starter Robert Mathis would be ready to return after suffering a torn Achilles last year. Tuesday, they found out, as Mathis returned to the practice field and with him, came questions about the role Cole will play once Mathis is ready for game action again.
Cole, who has 85.5 career sacks, said he isn't worried about playing time with Mathis on the road back.
"The coaches are going to put us in the right position," Cole said, per ESPN's Mike Wells. "I knew what I was coming into when I signed here. I'm here to be an impact when I'm called. I know my role."
The 32-year-old Cole said a healthy Mathis, who had 19.5 sacks in 2013, should only help his game.
"For a rusher, this is what you want," Cole said. "You want another guy who can get after it. You know the chances of getting a sack are going up really high."
With both Cole and Mathis the Colts' pass rush should be significantly upgraded from a year ago when the team recorded 41 sacks. Indianapolis also has second-year linebacker Johnathan Newsome, who led the team with 6.5 sacks as a rookie.
Mathis said he's excited to work with the group.
"We have a squad of pass-rushers," Mathis said. "I need to get out there so we can start humming together."
(h/t ESPN)