Results: Kyle Busch leads final Sprint Cup practice at Charlotte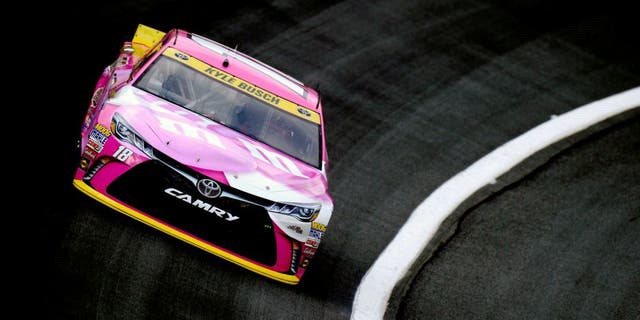 NEWYou can now listen to Fox News articles!
Kyle Busch has 14 wins at Charlotte Motor Speedway, but the Joe Gibbs Racing driver is still searching for his first Sprint Cup Series victory at the 1.5-mile track. The driver of the No. 18 Toyota took one step toward that goal by leading Friday's final practice session for the Sprint Cup Series teams.

Like most drivers, Busch ran his fastest lap -- 28.518 seconds at 189.354 miles per hour -- on his first trip around the track.

The elder Busch brother, Kurt, led the day's first practice session and was second on the "Happy Hour" speed charts with a lap of 28.572 seconds at 188.996 mph. The Stewart-Haas Racing driver also had the best five- and 10-consecutive lap averages.

Joey Logano, Ryan Newman, Dale Earnhardt Jr., Brad Keselowski, non-Chaser Jamie McMurray, Carl Edwards, non-Chaser Casey Mears and Denny Hamlin filled out the top 10.

Dover winner Kevin Harvick was 12th fastest, while Martin Truex Jr. was 15th, Jeff Gordon was 16th and pole sitter Matt Kenseth was the slowest of the Chase drivers, in 25th.

Seven-time Charlotte winner Jimmie Johnson was 13th on the speed charts, but had the best 15-consecutive lap average of the session.

Friday's final practice session was key, as it was the only practice of the weekend in actual race conditions. With the green flag scheduled for 7:21 p.m. ET on Saturday, the final session saw teams hit the track at relatively the same time.
However, rain is in the forecast overnight, so teams will likely face a green racetrack when they arrive for Saturday night's race.

Take a look at the full results from final practice: