Results: Final practice for the Hollywood Casino 400 at Kansas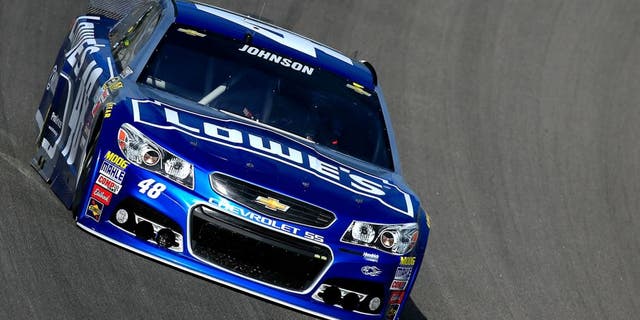 NEWYou can now listen to Fox News articles!
Jimmie Johnson is no longer eligible for the 2015 Sprint Cup Series championship.
He is plenty eligible to complete the season sweep at Kansas Speedway, however.
Johnson took an important step toward that end in Saturday's final practice at the 1.5-mile speedway where he showed the way with a lap of 188.983 mph in his No. 48 Chevrolet.
Johnson, who failed to reach the Chase Contender Round after suffering a mechanical issue in the elimination race two weekends ago at Dover, hasn't won since doing so in late May at the same track.
Just behind the six-time champion in Kansas "Happy Hour" were five Chase drivers -- Kansas pole winner Brad Keselowski, Denny Hamlin, Matt Kenseth, Joey Logano and Carl Edwards.
Hamlin, Kenseth and Edwards are all in Joe Gibbs Racing Toyotas. Logano, in a Team Penske Ford, became the first driver to clinch a berth in the Eliminator 8 with his win last weekend at Charlotte.
Completing the top 10 in final practice at Kansas were non-Chase drivers Ricky Stenhouse Jr. and Paul Menard, followed by title contenders Dale Earnhardt Jr. and Martin Truex Jr.
Chase driver Ryan Newman clocked in 11th quickest. The rest of the remaining Chase drivers finished the session outside of the top 15, as follows: Kurt Busch (16th), Kevin Harvick (18th), Kyle Busch (24th) and Jeff Gordon (29th).
With one race down and two to go in the Chase Contender Round, Earnhardt, Kenseth, Kyle Busch and Newman are the four drivers on the wrong side of the cutoff for advancing to the next round.
Check out the full results from Saturday's final practice: