Reports: Tony Stewart goes in stands to confront fan at dirt-track race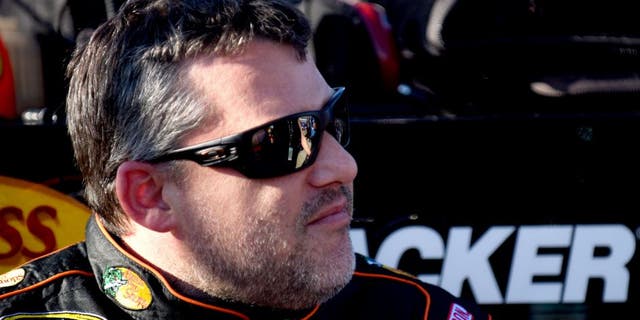 Tony Stewart went into the stands to confront a heckler Friday night at the Chili Bowl dirt-track races in Tulsa, Oklahoma, multiple sites reported after video of the incident emerged.
In the video, fans chant "Tony!" as Stewart gets in the face of a man in the stands, puts his hands on him and jaws at him for several seconds before another man, who appears to be a security member, intervenes and pushes the man into his seat, while Stewart leans in and continues to talk.
One fan who posted video of the incident to Twitter seemed to suggest that the man gave Stewart the finger.
In one video posted to Facebook, the man can be heard saying "I don't like ya, I never have" while Stewart replies "You're a p****, aren't ya?"
Stewart isn't driving in the Chili Bowl, Yahoo reported, and hasn't driven in a dirt-track race since he struck and killed Kevin Ward Jr. with his car at an August 2014 race. That incident, which led to Stewart taking a leave of absence from racing and a wrongful death suit by Ward's family, occurred when Ward got out of his car on the track to confront Stewart after their cars tangled on the track.
Later Friday night, Stewart was still in a feisty mood on Twitter.
A three-time Sprint Cup champion, Stewart struggled this past season in the aftermath of the tragedy and announced that the upcoming season would be his last in NASCAR. A two-time winner of the Chili Bowl, he has been at the track this week to help groom it for the races.