Reports: Tony Romo will have surgery but opts against collarbone plate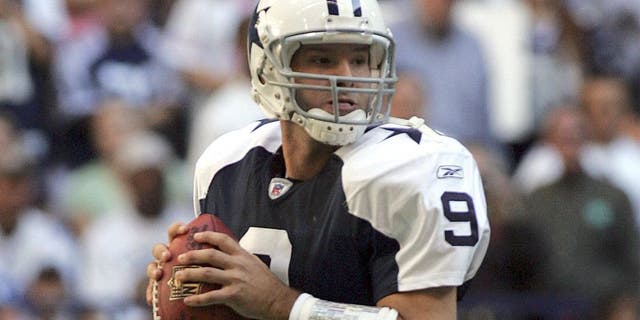 Dallas Cowboys quarterback Tony Romo will have surgery next week but has opted against having a plate inserted into his troublesome left collarbone. Instead, he will have part of his collarbone shaved down to reduce the pressure against his shoulder, according to ESPN and The Dallas Morning News.
The technique is known as the Mumford procedure, though a plate still could be inserted if the surgeon determines that is the better option. The Mumford procedure would require a recovery time of 6-8 weeks.
Romo, who turns 36 in April, broke the collarbone for the first time during the 2010 season. This past season, he broke it in a Week 2 win over the Philadelphia Eagles and fractured it again in a Thanksgiving loss to the Carolina Panthers. He played just four games, passing for 884 yards and five TDs with seven interceptions.
The Cowboys were 3-1 when Romo started last season but just 1-11 when their crew of backups (Matt Cassell, Brandon Weeden, Kellen Moore) were under center.
Romo missed just two games in the previous four seasons and made the Pro Bowl with a 34-TD, 3,705-yard season in 2014.
Given Romo's age and injury problems -- he also has had back surgery late in the 2013 season -- the Cowboys could target a QB in this year's draft. They own the fourth overall pick after a 4-12 season in 2015.