Reports: Perkins charged with assault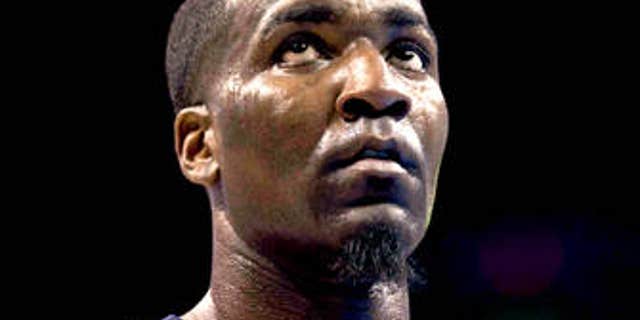 NEWYou can now listen to Fox News articles!
Oklahoma City Thunder center Kendrick Perkins has been charged with misdemeanor assault after allegedly punching a woman and her brother in the face outside a Houston nightclub in July, according to multiple reports.
According to KHOU in Houston , Perkins posted $1,000 bond Thursday morning. His brother-in-law, Quincy Alpough, faces the same charge according to the report. News9 in Oklahoma , citing police, said that the incident happened July 20 in the parking lot outside Nox nightclub. After two vehicles were involved in a fender bender, a pair of females, one in each car, got into a verbal confrontation.
According to court documents, Alpough then emerged from one of the vehicles and pushed the complainant, shouting, "That's my cousin!" At that point, the complainant's brother got out of the car "to check on her. He told police Perkins, a passenger in the other car, punched him in the head, causing him to fall to the ground." The complainant alleges Perkins then punched her in the face with a closed fist and knocked her to the ground.
According to KHOU, a third person in the complainant's vehicle claims Alpough struck her in the throat and knocked her unconscious, and "all three victims say a group of people then kicked them repeatedly while they were lying on the ground." KHOU also says an additional witness corroborated the story.
The case was originally dismissed in the summer, but it was re-filed and Perkins and Alpough were charged.
"We were made aware of the allegations," Thunder general manager Sam Presti said in a statement. "It is something we take seriously and are gathering more information. We will have no further comment at this time."
The Oklahoman reported that Perkins was not seen at Thunder practice on Thursday.
Perkins, 28, played in 78 games last season, averaging 4.2 points and 6.0 rebounds per game. This is his second run-in with law since joining the Thunder during the 2010-11 season. On Aug. 13, 2011, Perkins was charged with public intoxication and disorderly conduct after he was arrested outside a Beaumont, Texas, nightclub. Charges were reportedly dropped in that case.