Reports: Miami looking at bringing back Davis; Strong not interested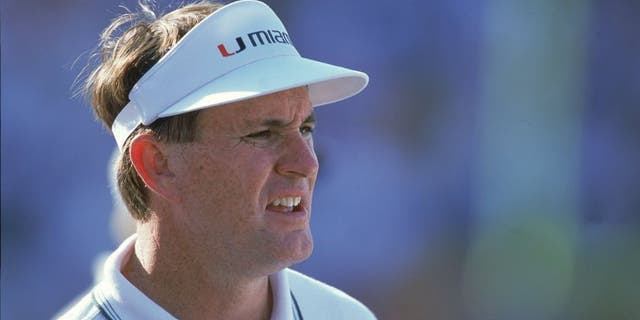 NEWYou can now listen to Fox News articles!
Return to glory?
That might be what Miami has in mind, as a report from the Miami Herald on Thursday indicated that Butch Davis, who coaches the Hurricanes from 1995-2000, is a strong contender for the program's open head coaching job. The report stated that, according to sources, the Canes are taking a "fresh look" at Davis and "evaluating his viability as a candidate" among a push from some members of the school's Board of Trustees to hire him.
The Herald also indicated in its report that Miami is not looking solely at Davis, with Texas coach Charlie Strong, Cincinnati coach Tommy Tuberville, ex-Rutgers and Tampa Bay Buccaneers coach Greg Schiano and Indianapolis Colts offensive coordinator Rob Chudzinski among the other candidates. The latter three all previously served as assistants for the Hurricanes.
However, Tuberville said Friday at his media availability that he is not interested in the Miami job, and a report Friday from the Dallas Morning News said that Strong is not interested in leaving Texas at this time.
Davis, 63, has been out of coaching since 2011, when he was fired by North Carolina early in the school's ongoing academic scandal. Davis, who took over the Tar Heels after a stint with the Cleveland Browns, was later cleared of wrongdoing by the NCAA. But there have been more recent allegations that he was aware of some academic fraud during his time at UNC, perhaps limiting his chances to land a coaching job.
Davis has publicly said that he would be interested in returning to Miami, though, and the school undoubtedly would like to replicate the success the Hurricanes enjoyed during and shortly after his tenure. In Davis' six-year stint, Miami went 51-20 overall and 11-1 in his final season, when the Canes finished No. 2 in the polls. His outstanding recruiting also left the program in strong shape for replacement Larry Coker, who took the 2001 team -- considered one of the most talented ever in college football -- to the national title and the 2002 team to the BCS championship game.
Since that time, Miami has mostly been in decline, posting no double-digit-win season since 2003 and finishing with seven victories or fewer seven times in the past nine years. The Hurricanes fired Al Golden last month after much public criticism for the team's poor performance over the last two years; Miami was 10-10 in its last 20 games and 4-7 in its last 11 ACC games at the time of Golden's firing.
Considering that Davis carries some ethical baggage and is at an age where a long-term stint seems unlikely (barring Bill Snyder-like resiliency), his hiring would come with some question marks and a perception that Miami is seeking, above all else, a rapid return to the halcyon days of "The U."
It remains to be seen whether this is the school's preferred option, but if the Herald's report is accurate, it's something Miami is definitely considering.