Reports: Inactive Jadeveon Clowney storms out of stadium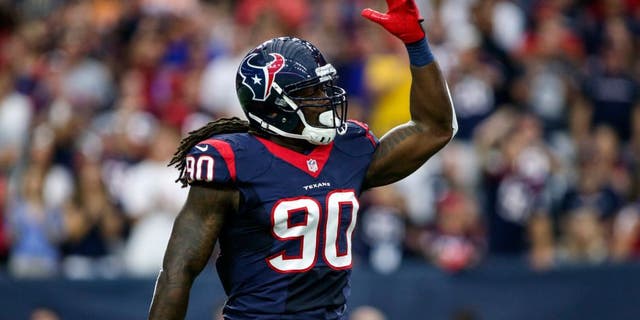 The Houston Texans won't have linebacker Jadeveon Clowney in uniform for Saturday's AFC Wild Card game against the Kansas City Chiefs.
And as it turns out, Clowney won't even be in the building. According to a report by ESPN's Lisa Salters, the second-year player stormed out of NRG Stadium in Houston after being declared inactive for the game.
The NFL Network also reported that Clowney left to deal "with a family matter" and would return to the stadium.

Clowney hasn't played since Week 16 when he suffered a foot injury against the Jacksonville Jaguars. He practiced on a limited basis on Thursday, but didn't participate in the team's walkthrough on Friday. The team apparently thought it best to keep Clowney from action on Saturday.
The No. 1 overall draft pick in 2014, Clowney played in 13 games this season. He has 27 total tackles and 4.5 sacks in 2015.