Reports: A's add Hill to rotation, is Chavez the odd man out now?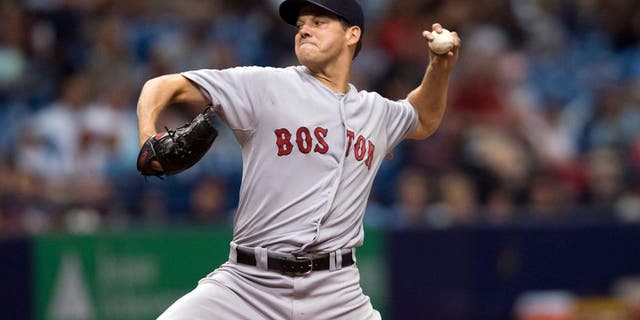 NEWYou can now listen to Fox News articles!
The Oakland Athletics have been relatively quiet thus far in the offseason, but don't expect that to last very long. In fact, things could heat up quite considerably for GM David Forst and team president Billly Beane.
On Tuesday, the A's signed left-handed pitcher Rich Hill to a one-year, $6 million contract for 2016. Jeff Passan of Yahoo! Sports passed along confirmation of the deal, with a note regarding why Hill agreed to Oakland's offer:
Hill, 35, spent a portion of last season with the Triple-A affiliates of the Boston Red Sox and Washington Nationals in addition to some time in the independent Atlantic League. He's a 'reclamation project', to be certain, but there was enough there to spark interest on the free agent market.
That Hill netted a $6 million deal from Oakland speaks to the strength of his late-season numbers with the Red Sox. In four starts with Boston down the stretch, Hill posted a 1.55 ERA, allowing just five walks and striking out 36 in 29 innings of work.
That (maybe miraculous) turnaround obviously struck a chord with the A's, who decided to bring him into the rotation in a low-risk, low-cost contract that should more or less protect them if his late 2015 success doesn't carry over to 2016.
However, if he continues pitching well the A's could wind up with one of the biggest bargains in the game. Dave Cameron of Fangraphs alluded to as much in a recent piece, ranking Hill No. 4 on his list of potential free agent bargains.
Cameron shared his conclusion on Hill to Twitter:
Heres's where things gett fun: the addition of Hill creates a bit of an issue for the A's. At the moment, their projected 2016 rotation features some combination of Sonny Gray, Kendall Graveman, Chris Bassitt, Jesse Hahn (if healthy), Jesse Chavez, Sean Manaea, Sean Nolin, Felix Doubront and A.J. Griffin (if healthy).
Obviously, there's a logjam in the starting staff as it currently stands...which is why Passan's report of potential trade interest in Chavez makes so much sense. Susan Slusser of the San Francisco Chronicle added to Passan's initial Tweet of Chavez rumors, noting that the Los Angeles Dodgers were known to be interested in the right-hander's services earlier in 2015:
Adding Hill such as the A's did increases their depth at starting pitching, and if there's one thing Billy Beane and his front office does is deal from a surplus.
Don't be surprised if the Green and Gold become quite active in the Hot Stove market soon...