Report: Wild MSU-Michigan ending sent a fan to the hospital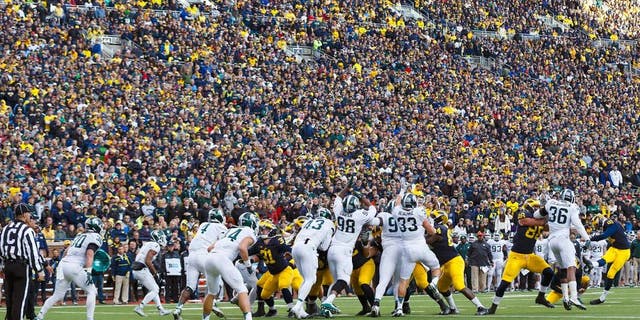 NEWYou can now listen to Fox News articles!
Michigan State's improbable last-play win sent a wave of emotion across college football and reportedly at least one fan to the hospital.
ESPN's Dan Murphy reported Saturday night that a fan at Michigan Stadium suffered a heart attack on the final play of the game, one that saw Michigan botch a punt snap and the Spartans take advantage by returning the resulting fumble for a game-winning touchdown.
"We did have one heart attack at the end of the game in the stadium," Michigan Public Information Officer Diane Brown told CBS Detroit. "Emergency medical personnel got to that person right away and were able to take that person to the University of Michigan emergency department for further treatment."
According to the report, the fan is in stable condition at Michigan's University Hospital.