Report: White Sox, Orioles the leaders for Yoenis Cespedes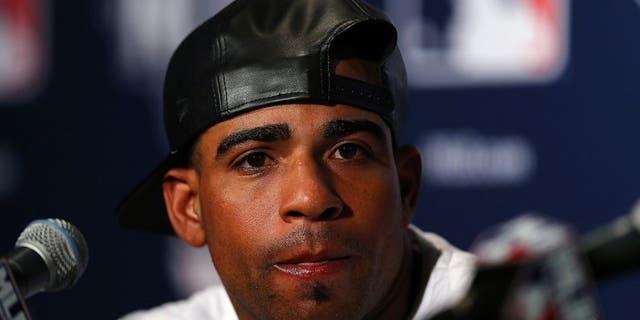 Outside of Jason Heyward signing with the Chicago Cubs, the position player free agent market has been quiet thus far this offseason.
But that could change quickly.
According to a report from Jesse Sanchez of MLB.com, Yoenis Cespedes' market is developing, with the Chicago White Sox and Baltimore Orioles named as the leaders:
Cespedes is an interesting case as he's the only big-name free agent outfielder (out of him, Justin Upton and Alex Gordon) that doesn't have a draft pick tied to him.
The 30-year-old is also intriguing because he has the potential to provide an immediate and significant impact on a team. After the New York Mets acquired the slugger at the trade deadline, he went on a tear at the plate, hitting 17 home runs and driving in 44 in just 57 games. Before July 31, the Mets averaged 3.5 runs per game. After? 5.4 runs per game.
Both of the leaders named in the report (like most teams) would certainly benefit from a player like Cespedes.
The White Sox would likely replace Avasail Garcia in the field and possibly look to trade Adam LaRoche to free up a spot in the lineup.
The Orioles, should they fail to re-sign Chris Davis, would desperately need to replace Davis' bat in the lineup. Additionally, as it stands now, Adam Jones projects to be the only steady performer in the outfield -- Nolan Reimold and Korean signee Hyun-soo Kim are the other two current starters.
Wherever he signs, he will undoubtedly cost a pretty penny. MLB Trade Rumors predicts he will earn a cool $20 million per season over a seven-year deal.