Report: Von Miller earns dismissal from NFL's drug program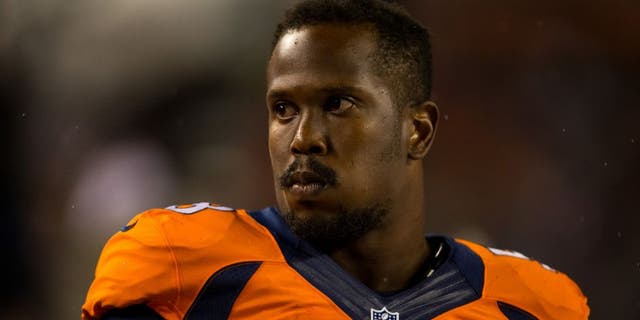 Von Miller no longer has to pee in a cup twice (or more) a week after the NFL removed him from its drug program.
Mike Klis of 9News in Denver reported the news.
Klis notes that Miller hasn't been tested in over a month now after proving clean on every test for the past two years. As a result, his status, once at Stage 3 (meaning a positive test would earn a one-year ban), is now set back at zero.
Miller's agent, Joby Branion, is ecstatic about this development.
"I'm very proud of how much he has grown over the past couple of years," Branion said. "He's done a heckuva job and overcome some major obstacles that few players are able to do. And for a high-profile guy, it's especially difficult. For him to not only grow, but to proactively take on leadership roles, I'm proud of him. He turned the ship around. He should be lauded for that."
Never mind that this news clears the way for Branion's client to make millions upon millions in a contract extension with the Broncos.
Oh, wait, did I say that out loud?
In all seriousness, yes, while Miller's clean slate opens the door for more financial prosperity, it also means the young man is in a better place personally, which is far more important.
With a clear mind, Miller should have another successful campaign for the Broncos this season. He racked up 14 sacks in 2014 and 18.5 in 2012, proving to be one of the league's most dynamic pass-rushers. With another monster season, he's going to push the Broncos to one-up the massive $102 million contract Justin Houston signed with the Kansas City Chiefs this past month.
Perhaps that's why Lindsay Jones saw such a happy guy at Broncos camp on Saturday.
More from Sportsnaut: