Report: Virginia Tech QB Brewer suffers broken collarbone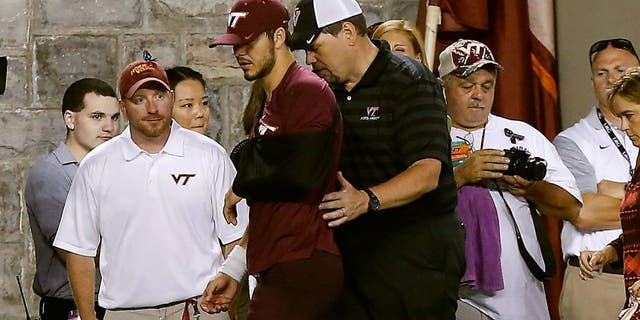 BLACKSBURG, Va. -- Virginia Tech quarterback Michael Brewer was knocked out of Monday night's 42-24 loss to No. 1 Ohio State in the third quarter with an injured left shoulder.
An ESPN sideline reporter said the Hokies QB suffered a broken collarbone.
Ohio State's Adolphus Washington slammed into Brewer, who had already thrown two touchdown passes, straight-on right after the quarterback released a pass, and the 290-pound defensive lineman landed on him.
Brewer stayed down for a bit before walking off and going straight to the locker room, holding his non-throwing arm.
Brenden Motley, a junior who is more of a running threat, took over for him. Motley was 1 for 3 passing in four games last year and ran for 72 yards on 14 carries.
The Hokies, who led 17-14 at halftime, fell behind 21-17 on the Buckeyes' opening drive of the second half.