Report: Texans release Ryan Mallett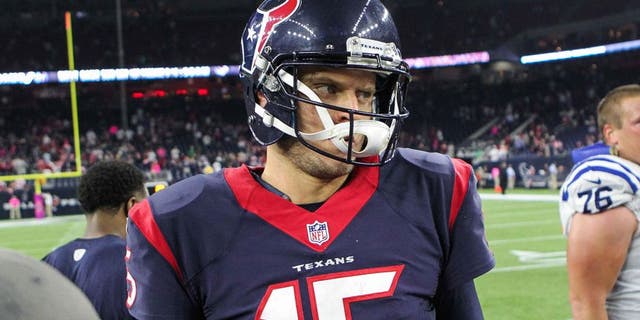 Ryan Mallett's failure to show up on time has now left him with much more time on his hands.
According to Aaron Wilson of the Houston Chronicle, the Texans have cut Mallett, after the backup quarterback missed the team's charter flight to Miami last weekend.
Mallett, who said he was stuck in traffic, was forced to fly commercial to South Florida. It was the second time he's had issues with punctuality this season. The 27-year-old also missed a training camp practice after oversleeping, which he blamed on a faulty alarm clock.
After losing the starting job to Brian Hoyer in camp, Mallett took over at quarterback during the season-opening loss to Kansas City and started the next four games. He was benched in favor of Hoyer during the team's Oct. 8 loss to the Indianapolis Colts.
With Mallett's release, the team will need to address the backup quarterback issue heading into Sunday's game against the Tennessee Titans. Hoyer is the only quarterback currently on the active roster.