Report: Suns' Markieff Morris says he won't be in Phoenix next season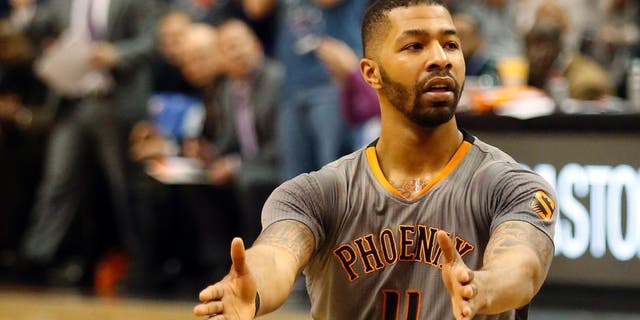 The writing has largely been on the wall since the Phoenix Suns sent Marcus Morris to the Detroit Pistons earlier this offseason. Now, twin brother Markieff Morris is making his displeasure clear -- he has no desire to be a member of the Suns next season.
According to Keith Pompey of the Philadelphia Inquirer, Morris "feels disrespected" by the way the trade of his brother went down, and now he's demanding his own trade out of Phoenix:
"One thing for sure, I am not going to be there," Morris said. "If you want to put that out there, you can put that out," he added. "... I am not to going to be there at all."
Marcus had been tweeting since at least the beginning of August that his brother wouldn't be in Phoenix in 2015-16, but there was always the possibility that he was just venting his frustrations after the trade. Now, it looks instead like he was giving fair warning to the Suns.
Roster overhaul has become the name of the game in Phoenix. And in a league where consistency is valued above most everything else, that's not a good sign for the Suns.
(h/t Philadelphia Inquirer)