Report: Steelers expect Big Ben to play, 'not looking good' for Brown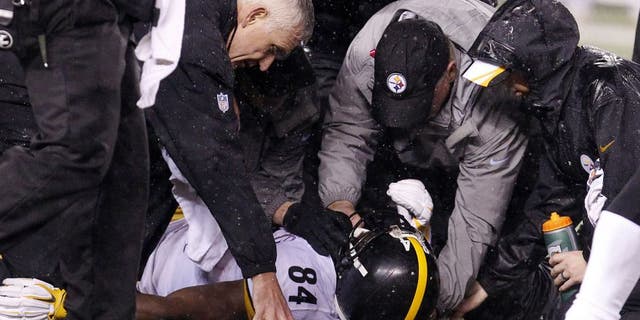 NEWYou can now listen to Fox News articles!
Two days after losing their two most important offensive players, the Pittsburgh Steelers on Monday reportedly received a mixed bag of news from team doctors.
Quarterback Ben Roethlisberger, who reportedly suffered a separated right shoulder in Saturday's Wild-Card win over the Cincinnati Bengals, reportedly expects to play in Denver this coming weekend while the status of All-Pro receiver Antonio Brown, injured on a shot to the head in closing seconds of that same game, is "not looking good."
ESPN's Bob Holtzman reported the news Monday.
Bengals linebacker Vontaze Burfict was the player who delivered the hit on both injuries; the shot on Brown ultimately setting up the Steelers' game-winning field goal Saturday and on Monday drawing Burfict a three-game suspension to begin next season.
Multiple reports on Sunday stated that Roethlisberger suffered a sprained AC joint but called himself "day-to-day." Brown is in the league's concussion protocol.
The Steelers play the top-seeded Broncos on Sunday in the final game of the Divisional Round.