Report: Ronda Rousey's reps shoot down engagement rumors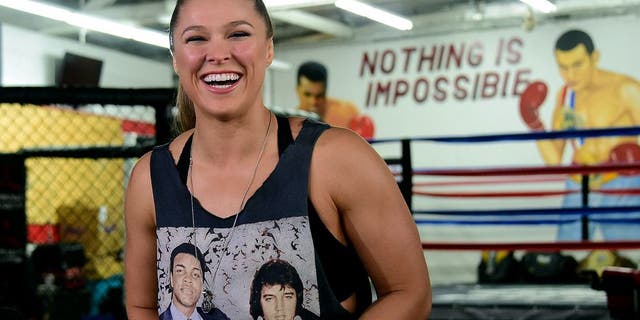 Rona Rousey was spotted wearing what looked like an engagement ring in promos for her appearance on "Saturday Night Live" last weekend, and it immediately spurred rumors that maybe the former UFC bantamweight champion was engaged to her boyfriend, UFC heavyweight Travis Browne.
Well, according to Entertainment Tonight, those rumors are just that, and Rousey hasn't gotten engaged to Browne after all.
Rousey's reps told the show that she was just trying on jewelry during the shoot and happened to be wearing the ring during the commercial. A UFC rep also reportedly denied the rumors.
However, according to other reports, Rousey was spotted wearing the ring while out with Browne in New York, and she covered her hand at the airport as she prepared to fly home.
The social media fuss over the ring prompted Browne's estranged wife to remind everyone that they're still married (the couple reportedly is finalizing their divorce.)