Report: Rockies interested in starter Yovani Gallardo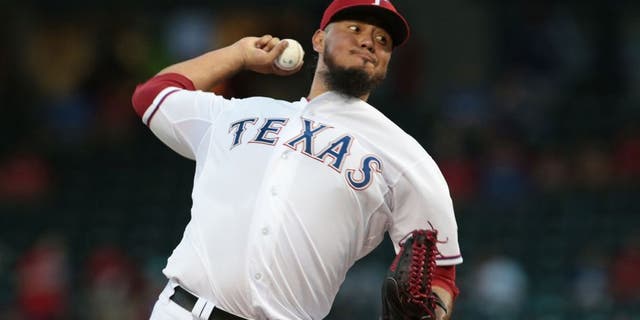 The Colorado Rockies are in major need of starting pitching, and they reportedly are considering signing the top remaining starter on the free-agent market.
According to CBS Sports, the Rockies are showing interest in free-agent starter Yovani Gallardo, who played with the Texas Rangers last season.
In his nine-year MLB career, Gallardo has posted a 102-75 record with a 3.66 ERA and 1.32 WHIP. The right-hander, who turns 30 before the season, went 13-11 with a 3.42 ERA and 1.42 WHIP in 2015.
MLB.com reports that Colorado was scheduled to meet with Gallardo's representatives on Thursday.
If the Rockies sign Gallardo, they would forfeit a draft pick to the Texas Rangers, as the Rangers extended him a qualifying offer at the beginning of the offseason that he rejected.
However, MLB.com notes that the Rockies would still have three premium draft picks (1st round: No. 4, 2nd round: No. 45, 3rd round: No. 81) if they were forced to part ways with their competitive-balance pick (No. 38).
With a surplus of outfielders after acquiring Gerardo Parra this offseason, there has been speculation that the Rockies will trade one of their starting outfielders (Carlos Gonzalez, Charlie Blackmon or Corey Dickerson) to address their need for starting pitching.
Colorado had the statistically worst pitching staff in MLB last season, posting a collective 5.04 ERA and 1.51 WHIP, both of which were major-league worsts.