Report: Redskins ownership won't let coaches bail on RG3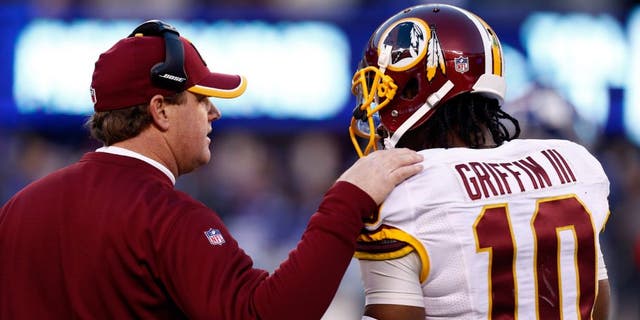 Washington Redskins head coach Jay Gruden and his staff reportedly want to move on from Robert Griffin III.
Shocking, right?
According to Adam Schefter and Dianna Russini of ESPN.com, several coaches and high-ranking front office officials want to bench RG3 but they are receiving resistance from ownership. The Redskins have reportedly discussed the possibility of trading Griffin, but there is hardly any interest and it is unclear if owner Daniel Snyder would allow a trade.
Griffin's $16.1 million option for 2016, which was picked up by the team in April and is guaranteed for injury only, is the main reason there is little interest for him on the trade market. The Redskins also cannot cut an injured player, and if RG3 is seriously injured his 2016 salary will become guaranteed.
RG3 was not cleared to play in Saturday's preseason game as he was nursing a concussion. He sent a curious tweet after being told he could not play, and reports have indicated that Kirk Cousins is expected to start for the Redskins in Week 1.
After Cousins completed 20-of-27 passes for 190 yards, a touchdown and an interception in a 31-13 preseason win over the Baltimore Ravens, Gruden appeared to backtrack on his insistence that Griffin is the team's starting quarterback.
"I'm not going to announce anything. There's no controversy," Gruden said, per Michael David Smith of Pro Football Talk. "As far as who's starting at every position, we're going to evaluate that as a staff. I'm not going to make any announcements right now, that's for sure."
Schefter went on to note that Griffin is unlikely to keep his starting job even if the Redskins' coaching staff loses its battle with ownership and is unable to trade or cut RG3.
We have known for a long time that Griffin is not Gruden's guy. The Redskins have simply invested too much in him -- and other first-round picks that have turned out to be busts -- for ownership to be convinced to drop him. But if what we hear about Gruden's attitude toward RG3 is true, the relationship needs to end.
More from Larry Brown Sports: