Report: Philbin told practice squad players go easy on Tannehill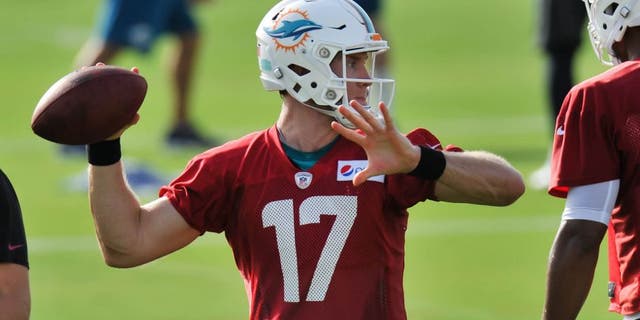 NEWYou can now listen to Fox News articles!
The Joe Philbin era in Miami came to a sudden end on Monday when he was relieved of his duties after the Dolphins started the season 1-3. Tight ends coach Dan Campbell will take over for Philbin as the interim head coach as the Dolphins look to turn their season around.
Now with Philbin out of Miami, there's a report that the head coach believed Ryan Tannehill had confidence issues. According to National Football Post, Philbin told practice squad players to take it easy on Tannehill so his confidence wasn't affected.
Aaron Wilson of NFP reports that on Saturday, Tannehill said "Enjoy your practice squad paycheck, enjoy your practice squad trophy" to practice squad players after they forced several turnovers. Frustrations have reportedly been boiling over for Tannehill over the past few weeks as he's thrown interceptions in practice.
Tannehill hasn't been nearly as effective as he was expected to be as he's thrown five interceptions in the last two weeks. He boasts an unimpressive 77.1 passer rating and has led a weak offense in Miami. Whether his practice frustrations have anything to do with his performance on game day is unknown, but it doesn't sound like a good situation for the Dolphins.
MORE NEWS: Want stories delivered to you? Sign up for our NFL newsletters.