Report: Padres, Marlins interested in free-agent pitcher Tim Lincecum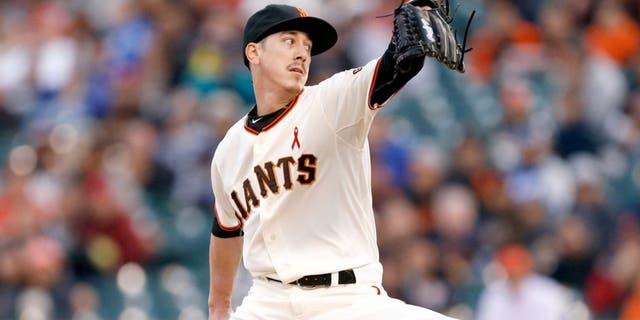 There is no shortage of interest in free agent Tim Lincecum, and now we know a couple of the rumored teams interested in the two-time Cy Young Award winner.
According to CBS Sports, both the San Diego Padres and Miami Marlins have displayed interest in Lincecum, who is a free agent for the first time after nine seasons with the San Francisco Giants.
The 31-year-old right-hander has experienced a rollercoaster career, and is looking to recapture the success he had during his heyday after having hip surgery last year.
In his first five years in the majors, Lincecum posted an impressive 69-41 record with a 2.98 ERA, 1.19 WHIP and 1,127 strikeouts versus 379 walks in 1,028 innings over 156 outings, winning the NL Cy Young Award in consecutive seasons in 2008 and 2009.
After another Cy Young-caliber season in 2011, Lincecum's fate took a sharp decline. From 2012 to last season, the former first-round pick has posted a 39-42 record with a 4.68 ERA, 1.40 WHIP, and 577 strikeouts against 267 walks in 615 2/3 innings over 113 outings.
His career numbers now stand at a 108-83 record, 3.61 ERA, 1.27 WHIP, and a 2.64 strikeouts-to-walks ratio.
Lincecum, who won three World Series titles with the Giants, is planning to hold a showcase for interested teams in the beginning of February, per the San Francisco Chronicle.
The Giants, the only organization with which Lincecum has played, have said they are keeping tabs on their longtime pitcher.
However, they aren't expected to land him unless it would be in a relief capacity, as they have already filled out their rotation with Johnny Cueto and Jeff Samardzija this offseason.