Report: Odom headed to rehab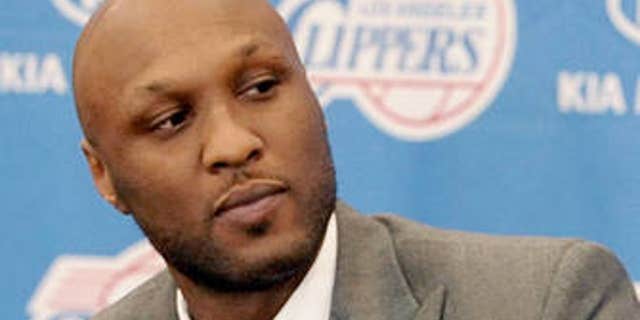 NEWYou can now listen to Fox News articles!
It appears Lamar Odom is headed for rehab, after all.
The veteran NBA forward and reality TV star has checked into a drug and alcohol rehabilitation center, according to People magazine. The news comes after several weeks of reports that Odom has been battling drug addiction and resisting help, despite the fact his marriage to Khloe Kardashian is on the rocks.
Odom's troubles hit a new low last week when he was arrested for a DUI in Los Angeles. He reportedly hired attorney Robert Shapiro, who is best known for his work on O.J. Simpson's defense team, to represent him in proceedings. The 33 year-old's agent recently said his client intends to continue his basketball career.
Getting back into the NBA at this point could be a tough trick to pull. Odom is an unrestricted free agent coming off the worst two seasons of his career. Last season, he averaged a career-low 4.0 points along with 5.9 rebounds for the Clippers.
Odom's career -- and perhaps his personal life -- took a turn for the worse when he was traded to Dallas late in 2011. Despite returning to LA to play for the Clippers last season, he failed to regain his form.
Then came a troubling summer, marked by rumors and incidents like this confrontation with paparrazi:
Odom has lived a life of dizzying highs and terrible lows. He peaked during his years with the Lakers, winning two championships in 2009 and '10, being named the Sixth Man of the Year in 2011 and becoming a reality TV star by marrying Kardashian in 2009.
However, his painful past was captured in a 2009 Sports Illustrated profile by Lee Jenkins:
"The happiest Laker is one whose father was addicted to heroin; whose mother died of colon cancer when he was 12; who attended three high schools; had his first college scholarship revoked before the fall of his freshman year; became a subject of three college investigations; declared for the NBA draft; tried unsuccessfully to pull out of the draft; was picked by arguably the worst franchise in sports; violated the league's antidrug policy twice within eight months; and, after finally getting his life together, went home to New York City for an aunt's funeral and wound up burying his 6 1/2-month-old son, Jayden, then getting robbed at gunpoint."
Several former Lakers teammates shared their concerns for Odom.
"It's unfortunate," Lakers guard Jordan Farmar told ESPNLA's Dave McMenamin this week. "A couple of us have reached out to him and haven't heard back."
"I'm here for him," Farmar added. "We're all here for him, really. We know what kind of guy he really is. Everybody goes through tough times in life, and if he needs anybody, he can always reach out to us."