Report: NFLPA files grievance on behalf of ex-Titan Taylor Thompson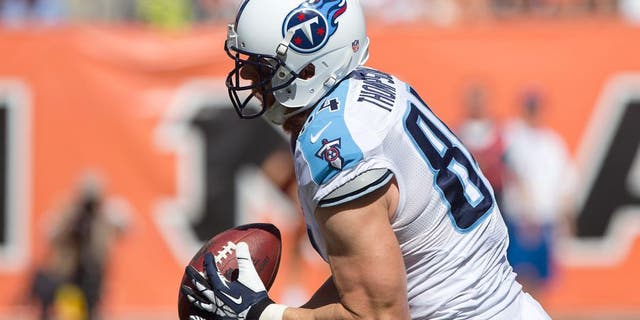 The NFL Players Association has reportedly filed a injury grievance on behalf of Taylor Thompson after the former Tennessee Titans tight end was released in June, per Adam Caplan of ESPN.
Thompson, a 2012 fifth-round pick, was cut June 19 without an injury designation. The tight end said he informed the team he was having once again issues with his knee at the time of his release.
The 25-year-old was limited to just three games last season because of a problem with the same knee. Caplan reports Thompson is expected to have surgery at some point soon.
Just prior to Thompson's release, Titans coach Ken Whisenhunt told reporters he didn't know what to make of the tight end's injury complaints.
"To be honest with you, I don't know what to tell you,'' Whisenhunt said, per the Tennessean. "When (Thompson) left here, however many weeks ago, he was healthy. We communicated; he said he was fine, no issues, other than some personal matters. He shows up, says there's something wrong with his knee, and I have no idea what he is talking about."
In three seasons with the Titans, Thompson had 11 receptions for 83 yards and a touchdown.
(h/t ESPN)