Report: NCAA meets with Manziel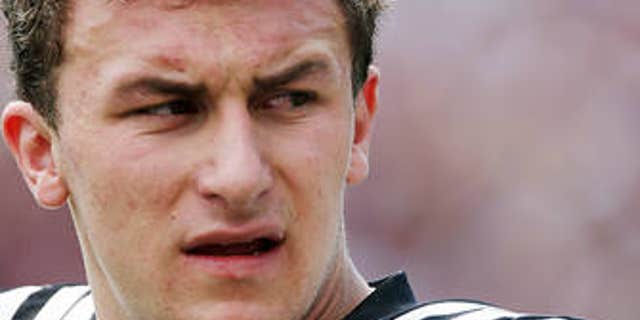 Texas A&M quarterback Johnny Manziel spent almost six hours meeting with NCAA officials Sunday about allegations that he received payment for his autograph, ESPN.com reported Monday.
Officials met with Manziel on the Texas A&M campus, but it was not clear if they would require another meeting with him at a later date, the report said.
Controversy has swirled around Manziel for weeks. Various reports have connected him to several memorabilia dealers who claim to have paid Manziel for separate autograph sessions, which would be a violation of NCAA rules.
Manziel burst onto the college football scene as a redshirt freshman last season, amassing more than 5,000 total yards and producing 47 touchdowns (26 passing, 21 rushing) on his way to becoming the first freshman to ever win the Heisman Trophy.
Texas A&M will begin its season Saturday at home against Rice. Previous reports indicated the Aggies might keep Manziel off the field while the NCAA investigated him, but Monday's team game notes listed him as the starter.
With questions continuing to surround Manziel's off-field issues, school athletic director Eric Hyman released a statement Monday saying the team would no longer address those issues.
"The focus of our coaches and student-athletes is solely on preparing for Rice this Saturday," Hyman's statement said, "and in the best interests of Texas A&M and the 100-plus student-athletes on the team, I have instructed Coach Sumlin, his staff and our student-athletes to refrain from commenting on or answering questions regarding the status of our starting quarterback, Johnny Manziel."