Report: National champion Clemson to visit the White House in June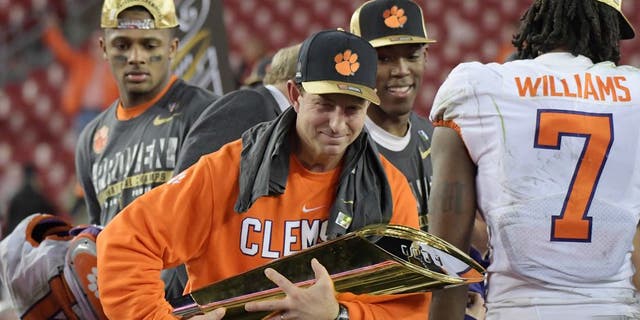 The Clemson Tigers will visit the White House on June 12 to meet with President Donald Trump and celebrate their national championship win in the College Football Playoff, The Post and Courier reports.
Clemson coach Dabo Swinney spoke to the Charleston, S.C., newspaper about the trip:
"I know we're going to leave really early (on the 12th) and get back late (at night), so it'll be a great experience. I got to do it as a player back in 1992 the spring of 1993 so I'm excited for our guys to have an opportunity to get to go," Swinney said Tuesday from his Columbia Prowl and Growl stop. "I don't know if all of them can go, some of our (former) seniors have camps and stuff, but it'll be a fun trip. The Capitol and the White House you get to do something in a way that very few people get to do."
It remains to be seen which members of the coaching staff and team will/wont attend. Clemson will be the second championship team to visit the White House this year, following the Super Bowl champion New England Patriots, whose trip in April certainly wasnt without controversy.
Clemson capped a 14-1 season with a 35-31 win over Alabama in the College Football Championship one year after losing to the Crimson Tide in the title game.