Report: Lovie Smith wants Jameis Winston to protect himself better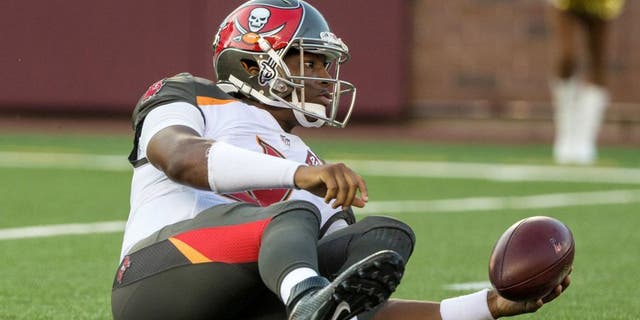 Quarterback Jameis Winston has spent the bulk of his rookie offseason learning the playbook and preparing to lead the Tampa Bay Buccaneers in 2015. While that's obviously still the focus, Roy Cummings of The Tampa Tribune reports that there's one other key thing Lovie Smith wants Winston to focus on.
Protecting himself better.
This all stems from Winston running during the team's 26-16 loss to the Minnesota Vikings.
"Well, he hadn't run the ball (until then),'' Bucs coach Lovie Smith told Cummings. "So, yes, in these coming weeks we will work on teaching him how to protect himself a little better and when to get down.''
As Cummings explains, Winston dove headfirst on all three scrambles during the preseason game. Obviously, this is something the Bucs need to fix immediately, because you can't have your franchise quarterback taking big hits.
Winston stated that he was always taught something different, but there's little chance his mindset will stay that way for long.
"In football, I was always taught to fall forward, because if you give up yourself in the NFL you're declared down,'' Winston said.
Winston will quickly be taught to avoid taking those hits, and yes, avoid falling forwards in most cases.
(h/t The Tampa Tribune)